Kateryna Makova
Director of the Center for Medical Genomics; Professor of Biology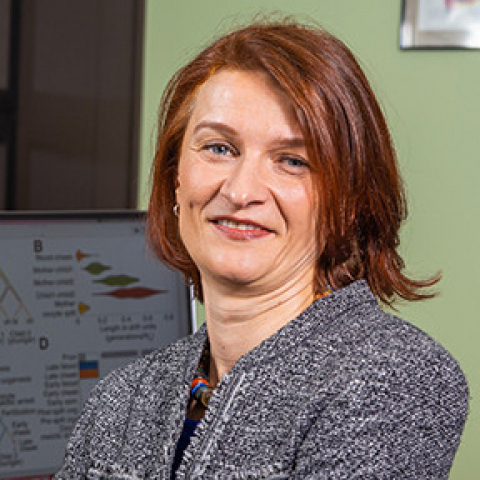 305 Wartik Lab
University Park, PA 16802
Research Summary
Molecular evolution, population genetics, evolutionary genomics, bioinformatics, and human genetics.
Huck Graduate Students
Huck Affiliations
Links
Publication Tags
Genome
Human Genome
Data Analysis
Y Chromosome
Mutation
Child
Vertebrates
Chromatin
Obesity
Growth
Mitochondrial Dna
Nurses
Genomics
Microsatellite Repeats
Single Nucleotide Polymorphism
Parenting
Genes
Mutation Rate
Pan Troglodytes
Weights And Measures
Rna
Dna
High Throughput Nucleotide Sequencing
Siblings
Chromosomes
Most Recent Papers
Advanced age increases frequencies of de novo mitochondrial mutations in macaque oocytes and somatic tissues
Barbara Arbeithuber, Marzia A. Cremona, James Hester, Alison Barrett, Bonnie Higgins, Kate Anthony, Francesca Chiaromonte, Francisco J. Diaz, Kateryna D. Makova, 2022, Proceedings of the National Academy of Sciences of the United States of America
Metabolomic profiling of stool of two-year old children from the INSIGHT study reveals links between butyrate and BMI
D Nandy, Craig SJC, J Cai, Y Tian, I Paul, J Savage, M Marini, E Hohman, M Reimherr, Andrew Patterson, K Makova, F Chiaromonte, 2022, Pediatric obesity on p. e12833
INSIGHT responsive parenting educational intervention for firstborns is associated with growth of second-born siblings
Jennifer Savage Williams, Anna K. Hochgraf, Eric Loken, Michele E. Marini, Sarah J.C. Craig, Kateryna D. Makova, Leann L. Birch, Ian Paul, 2022, Obesity on p. 183-190
Selection and thermostability suggest G-quadruplexes are novel functional elements of the human genome
Wilfried M. Guiblet, Michael DeGiorgio, Xiaoheng Cheng, Francesca Chiaromonte, Kristin A. Eckert, Yi Fei Huang, Kateryna D. Makova, 2021, Genome Research on p. 1136-1149
Towards complete and error-free genome assemblies of all vertebrate species
Arang Rhie, Shane A. McCarthy, Olivier Fedrigo, Joana Damas, Giulio Formenti, Sergey Koren, Marcela Uliano-Silva, William Chow, Arkarachai Fungtammasan, Juwan Kim, Chul Lee, Byung June Ko, Mark Chaisson, Gregory L. Gedman, Lindsey J. Cantin, Francoise Thibaud-Nissen, Leanne Haggerty, Iliana Bista, Michelle Smith, Bettina Haase, Jacquelyn Mountcastle, Sylke Winkler, Sadye Paez, Jason Howard, Sonja C. Vernes, Tanya M. Lama, Frank Grutzner, Wesley C. Warren, Christopher N. Balakrishnan, Dave Burt, Julia M. George, Matthew T. Biegler, David Iorns, Andrew Digby, Daryl Eason, Bruce Robertson, Taylor Edwards, Mark Wilkinson, George Turner, Axel Meyer, Andreas F. Kautt, Paolo Franchini, H. William Detrich, Hannes Svardal, Maximilian Wagner, Gavin J.P. Naylor, Martin Pippel, Milan Malinsky, Mark Mooney, Maria Simbirsky, Brett T. Hannigan, Trevor Pesout, Marlys Houck, Ann Misuraca, Sarah B. Kingan, Richard Hall, Zev Kronenberg, Ivan Sović, Christopher Dunn, Zemin Ning, Alex Hastie, Joyce Lee, Siddarth Selvaraj, Richard E. Green, Nicholas H. Putnam, Ivo Gut, Jay Ghurye, Erik Garrison, Ying Sims, Joanna Collins, Sarah Pelan, James Torrance, Alan Tracey, Jonathan Wood, Robel E. Dagnew, Dengfeng Guan, Sarah E. London, David F. Clayton, Claudio V. Mello, Samantha R. Friedrich, Peter V. Lovell, Ekaterina Osipova, Farooq O. Al-Ajli, Simona Secomandi, Heebal Kim, Constantina Theofanopoulou, Michael Hiller, Yang Zhou, Robert S. Harris, Kateryna D. Makova, Paul Medvedev, Jinna Hoffman, Patrick Masterson, Karen Clark, Fergal Martin, Kevin Howe, Paul Flicek, Brian P. Walenz, Woori Kwak, Hiram Clawson, Mark Diekhans, Luis Nassar, Benedict Paten, Robert H.S. Kraus, Andrew J. Crawford, M. Thomas P. Gilbert, Guojie Zhang, Byrappa Venkatesh, Robert W. Murphy, Klaus Peter Koepfli, Beth Shapiro, Warren E. Johnson, Federica Di Palma, Tomas Marques-Bonet, Emma C. Teeling, Tandy Warnow, Jennifer Marshall Graves, Oliver A. Ryder, David Haussler, Stephen J. O'Brien, Jonas Korlach, Harris A. Lewin, Kerstin Howe, Eugene W. Myers, Richard Durbin, Adam M. Phillippy, Erich D. Jarvis, 2021, Nature on p. 737-746
Associations between stool micro-transcriptome, gut microbiota, and infant growth.
Molly C. Carney, Xiang Zhan, Akanksha Rangnekar, Maria Z. Chroneos, Sarah J.C. Craig, Kateryna D. Makova, Ian M. Paul, Steven D. Hicks, 2021, Journal of Developmental Origins of Health and Disease on p. 1-7
Metabolomic profiling of stool of two-year old children from the INSIGHT study reveals links between butyrate and child weight outcomes
Debmalya Nandy, Sarah J.C. Craig, Jingwei Cai, Yuan Tian, Ian Paul, Jennifer Savage Williams, Michele E. Marini, Emily Hohman, Matthew Logan Reimherr, Andrew David Patterson, Kateryna Dmytrivna Makova, Francesca Chiaromonte, 2021, Pediatric obesity
Constructing a polygenic risk score for childhood obesity using functional data analysis
Sarah J.C. Craig, Ana M. Kenney, Junli Lin, Ian M. Paul, Leann L. Birch, Jennifer S. Savage, Michele E. Marini, Francesca Chiaromonte, Matthew L. Reimherr, Kateryna D. Makova, 2021, Econometrics and Statistics
Human L1 transposition dynamics unraveled with functional data analysis
Di Chen, Marzia A. Cremona, Zongtai Qi, Robi D. Mitra, Francesca Chiaromonte, Kateryna D. Makova, 2020, Molecular Biology and Evolution on p. 3576-3600
Dynamic evolution of great ape Y chromosomes
Monika Cechova, Rahulsimham Vegesna, Marta Tomaszkiewicz, Robert S. Harris, Di Chen, Samarth Rangavittal, Paul Medvedev, Kateryna D. Makova, 2020, Proceedings of the National Academy of Sciences of the United States of America on p. 26273-26280
View More
Most-Cited Papers
The origin, evolution, and functional impact of short insertion-deletion variants identified in 179 human genomes
Stephen B. Montgomery, David L. Goode, Erika Kvikstad, Cornelis A. Albers, Zhengdong D. Zhang, Xinmeng Jasmine Mu, Guruprasad Ananda, Bryan Howie, Konrad J. Karczewski, Kevin S. Smith, Vanessa Anaya, Rhea Richardson, Joe Davis, Daniel G. MacArthur, Arend Sidow, Laurent Duret, Mark Gerstein, Kateryna D. Makova, Jonathan Marchini, Gil McVean, Gerton Lunter, 2013, Genome Research on p. 749-761
Maternal age effect and severe germ-line bottleneck in the inheritance of human mitochondrial DNA
Boris Rebolledo-Jaramillo, Marcia Shu Wei Su, Nicholas Stoler, Jennifer A. McElhoe, Benjamin Dickins, Daniel Blankenberg, Thorfinn S. Korneliussen, Francesca Chiaromonte, Rasmus Nielsen, Mitchell M. Holland, Ian M. Paul, Anton Nekrutenko, Kateryna D. Makova, 2014, Proceedings of the National Academy of Sciences of the United States of America on p. 15474-15479
The effects of chromatin organization on variation in mutation rates in the genome
Kateryna D. Makova, Ross C. Hardison, 2015, Nature Reviews Genetics on p. 213-223
Towards complete and error-free genome assemblies of all vertebrate species
Arang Rhie, Shane A. McCarthy, Olivier Fedrigo, Joana Damas, Giulio Formenti, Sergey Koren, Marcela Uliano-Silva, William Chow, Arkarachai Fungtammasan, Juwan Kim, Chul Lee, Byung June Ko, Mark Chaisson, Gregory L. Gedman, Lindsey J. Cantin, Francoise Thibaud-Nissen, Leanne Haggerty, Iliana Bista, Michelle Smith, Bettina Haase, Jacquelyn Mountcastle, Sylke Winkler, Sadye Paez, Jason Howard, Sonja C. Vernes, Tanya M. Lama, Frank Grutzner, Wesley C. Warren, Christopher N. Balakrishnan, Dave Burt, Julia M. George, Matthew T. Biegler, David Iorns, Andrew Digby, Daryl Eason, Bruce Robertson, Taylor Edwards, Mark Wilkinson, George Turner, Axel Meyer, Andreas F. Kautt, Paolo Franchini, H. William Detrich, Hannes Svardal, Maximilian Wagner, Gavin J.P. Naylor, Martin Pippel, Milan Malinsky, Mark Mooney, Maria Simbirsky, Brett T. Hannigan, Trevor Pesout, Marlys Houck, Ann Misuraca, Sarah B. Kingan, Richard Hall, Zev Kronenberg, Ivan Sović, Christopher Dunn, Zemin Ning, Alex Hastie, Joyce Lee, Siddarth Selvaraj, Richard E. Green, Nicholas H. Putnam, Ivo Gut, Jay Ghurye, Erik Garrison, Ying Sims, Joanna Collins, Sarah Pelan, James Torrance, Alan Tracey, Jonathan Wood, Robel E. Dagnew, Dengfeng Guan, Sarah E. London, David F. Clayton, Claudio V. Mello, Samantha R. Friedrich, Peter V. Lovell, Ekaterina Osipova, Farooq O. Al-Ajli, Simona Secomandi, Heebal Kim, Constantina Theofanopoulou, Michael Hiller, Yang Zhou, Robert S. Harris, Kateryna D. Makova, Paul Medvedev, Jinna Hoffman, Patrick Masterson, Karen Clark, Fergal Martin, Kevin Howe, Paul Flicek, Brian P. Walenz, Woori Kwak, Hiram Clawson, Mark Diekhans, Luis Nassar, Benedict Paten, Robert H.S. Kraus, Andrew J. Crawford, M. Thomas P. Gilbert, Guojie Zhang, Byrappa Venkatesh, Robert W. Murphy, Klaus Peter Koepfli, Beth Shapiro, Warren E. Johnson, Federica Di Palma, Tomas Marques-Bonet, Emma C. Teeling, Tandy Warnow, Jennifer Marshall Graves, Oliver A. Ryder, David Haussler, Stephen J. O'Brien, Jonas Korlach, Harris A. Lewin, Kerstin Howe, Eugene W. Myers, Richard Durbin, Adam M. Phillippy, Erich D. Jarvis, 2021, Nature on p. 737-746
A genome-wide analysis of common fragile sites
Arkarachai Fungtammasan, Erin Walsh, Francesca Chiaromonte, Kristin A. Eckert, Kateryna D. Makova, 2012, Genome Research on p. 993-1005
Development and assessment of an optimized next-generation DNA sequencing approach for the mtgenome using the Illumina MiSeq
Jennifer A. McElhoe, Mitchell M. Holland, Kateryna D. Makova, Marcia Shu Wei Su, Ian M. Paul, Christine H. Baker, Seth A. Faith, Brian Young, 2014, Forensic Science International: Genetics on p. 20-29
The Intervention Nurses Start Infants Growing on Healthy Trajectories (INSIGHT) study
Ian M. Paul, Jennifer S. Williams, Stephanie Anzman-Frasca, Jessica S. Beiler, Kateryna D. Makova, Michele E. Marini, Lindsey B. Hess, Susan E. Rzucidlo, Nicole Verdiglione, Jodi A. Mindell, Leann L. Birch, 2014, BMC Pediatrics
A time- and cost-effective strategy to sequence mammalian Y chromosomes: An application to the de novo assembly of gorilla Y
Marta Tomaszkiewicz, Samarth Rangavittal, Monika Cechova, Rebeca Campos Sanchez, Howard W. Fescemyer, Robert Harris, Danling Ye, Patricia C.M. O'Brien, Rayan Chikhi, Oliver A. Ryder, Malcolm A. Ferguson-Smith, Paul Medvedev, Kateryna D. Makova, 2016, Genome Research on p. 530-540
Accurate typing of short tandem repeats from genome-wide sequencing data and its applications
Arkarachai Fungtammasan, Guruprasad Ananda, Suzanne E. Hile, Marcia Shu Wei Su, Chen Sun, Robert Harris, Paul Medvedev, Kristin Eckert, Kateryna D. Makova, 2015, Genome Research on p. 736-749
Y and W Chromosome Assemblies: Approaches and Discoveries
Marta Tomaszkiewicz, Paul Medvedev, Kateryna D. Makova, 2017, Trends in Genetics on p. 266-282
View More