Karam El-Bayoumy
Professor of Biochemistry and Molecular Biology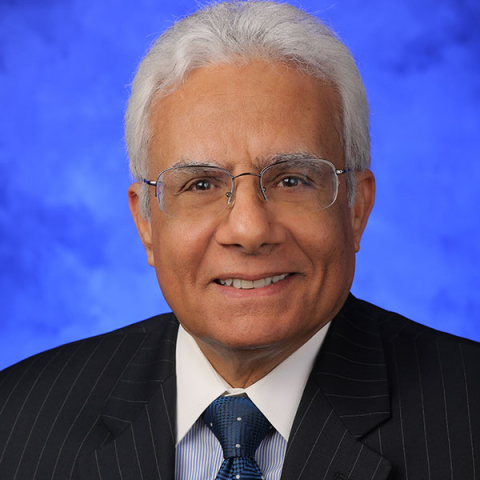 CH72 Biochemistry & Molecular Biology
Hershey, PA
Publication Tags
Dibenzo(A,L)Pyrene
Tobacco
Smoke
Neoplasms
Omega 3 Fatty Acids
Breast Neoplasms
Carcinogenesis
Proteins
Mouth
Carcinogens
Biomarkers
Environmental Pollutants
Breast Density
Mutagenesis
Dna
Squamous Cell Carcinoma
Vitamin D Binding Protein
Mouth Neoplasms
Dna Damage
Dna Adducts
Fatty Acids
Tissue
Chemoprevention
Environmental Carcinogens
Tongue
Most Recent Papers
An Integrated Approach for Preventing Oral Cavity and Oropharyngeal Cancers: Two Etiologies with Distinct and Shared Mechanisms of Carcinogenesis.
Karam El Bayoumy, N Christensen, J Hu, D Stairs, V Walter, K Chen, Y Sun, J Muscat, J Richie, Cancer Prev Res (Phila). on p. 649-60
Effects of E-Cigarette Aerosols with Varying Levels of Nicotine on Biomarkers of Oxidative Stress and Inflammation in Mice.
Y Sun, K Chen, H Atkins, C Aliaga, T Gordon, J Guttenplan, Karam El Bayoumy, 2021, Chemical research in toxicology
The environmental pollutant and tobacco smoke constituent dibenzo[def,p]chrysene is a co-factor for malignant progression of mouse oral papillomavirus infections
Neil D. Christensen, Kun Ming Chen, Jiafen Hu, Douglas B. Stairs, Yuan Wan Sun, Cesar Aliaga, Karla K. Balogh, Hannah Atkins, Debra Shearer, Jingwei Li, Sarah A. Brendle, Krishne Gowda, Shantu Amin, Vonn Walter, Raphael Viscidi, Karam El-Bayoumy, 2021, Chemico-Biological Interactions
An integrated approach for preventing oral cavity and oropharyngeal cancers
Karam El-Bayoumy, Neil D. Christensen, Jiafen Hu, Raphael Viscidi, Douglas B. Stairs, Vonn Walter, Kun Ming Chen, Yuan Wan Sun, Joshua E. Muscat, John P. Richie, 2020, Cancer Prevention Research on p. 649-660
Customized Prevention Trials Could Resolve the Controversy of the Effects of Omega-3 Fatty Acids on Cancer
Karam El-Bayoumy, Andrea Manni, 2020, Nutrition and Cancer on p. 183-186
Effects of the Tobacco Carcinogens N′-Nitrosonornicotine and Dibenzo[ a, l]pyrene Individually and in Combination on DNA Damage in Human Oral Leukoplakia and on Mutagenicity and Mutation Profiles in lacI Mouse Tongue
Joseph B. Guttenplan, Kun Ming Chen, Yuan Wan Sun, Nora A.E. Shalaby, Wieslawa Kosinska, Dhimant Desai, Krishne Gowda, Shantu Amin, Karam El-Bayoumy, 2019, Chemical Research in Toxicology on p. 1893-1899
Omega-3 Fatty Acids Responsive Proteins and Reduction in Breast Density in Obese Postmenopausal Women
Yuan Wan Sun, Haifang Xu, Gabrielle Benitez, Kun Ming Chen, Anne Stanley, Bruce Stanley, Junjia Zhu, Henry Thompson, Andrea Manni, Karam El-Bayoumy, 2019, Journal of Proteome Research on p. 3461-3469
Comparative Tumorigenicity and DNA Damage Induced by Dibenzo[ def,p]chrysene and Its Metabolites in the Mouse Ovary
Kun Ming Chen, Yuan Wan Sun, Timothy K. Cooper, Gabrielle Benitez, Cesar Aliaga, Junjia Zhu, Krishne Gowda, Shantu Amin, Karam El-Bayoumy, 2018, Chemical Research in Toxicology on p. 1111-1118
Effects of Black Raspberry on Dibenzo[a,l]Pyrene Diol Epoxide Induced DNAAdducts, Mutagenesis, and Tumorigenesis in the Mouse Oral Cavity
Kun Ming Chen, Joseph B. Guttenplan, Yuan Wan Sun, Timothy Cooper, Nora A.E. Shalaby, Wieslawa Kosinska, Gabrielle Benitez, Cesar Aliaga, Junjia Zhu, Jason Liao, Krishne Gowda, Shantu Amin, Gary Stoner, Karam El-Bayoumy, 2018, Cancer Prevention Research on p. 157-164
Docosahexaenoic acid in combination with dietary energy restriction for reducing the risk of obesity related breast cancer
Andrea Manni, Karam El-Bayoumy, Henry Thompson, 2018, International Journal of Molecular Sciences
View More
Most-Cited Papers
Proteomic profiling of human plasma by iTRAQ reveals down-regulation of ITI-HC3 and VDBP by cigarette smoking
James D. Bortner, John P. Richie, Arunangshu Das, Jason Liao, Todd M. Umstead, Anne Stanley, Bruce A. Stanley, Chandra P. Belani, Karam El-Bayoumy, 2011, Journal of Proteome Research on p. 1151-1159
Identification of a molecular signature underlying inhibition of mammary carcinoma growth by dietary N-3 fatty acids
Weiqin Jiang, Zongjian Zhu, John N. McGinley, Karam El Bayoumy, Andrea Manni, Henry J. Thompson, 2012, Cancer Research on p. 3795-3806
Chemoprevention of breast cancer by fish oil in preclinical models
Carina Signori, Karam El-Bayoumy, Jose Russo, Henry J. Thompson, John P. Richie, Terryl J. Hartman, Andrea Manni, 2011, Cancer Research on p. 6091-6096
Mutagenesis and carcinogenesis induced by dibenzo[a,l]pyrene in the mouse oral cavity
Joseph B. Guttenplan, Wieslawa Kosinska, Zhong Lin Zhao, Kun Ming Chen, Cesar Aliaga, Joseph Deltondo, Timothy Cooper, Yuan Wan Sun, Shang Min Zhang, Kun Jiang, Richard Bruggeman, Arun K. Sharma, Shantu Amin, Kwangmi Ahn, Karam El-Bayoumy, 2012, International Journal of Cancer on p. 2783-2790
Administration of omega-3 fatty acids and Raloxifene to women at high risk of breast cancer
C. Signori, C. Dubrock, John Richie, B. Prokopczyk, Laurence Demers, C. Hamilton, Terryl Johnson Hartman, Jiangang (Jason) Liao, Karam El-Bayoumy, Andrea Manni, 2012, European Journal of Clinical Nutrition on p. 878-884
Identification and quantification of DNA adducts in the oral tissues of mice treated with the environmental carcinogen dibenzo[ a,l ]pyrene by HPLC-MS/MS
Shang Min Zhang, Kun Ming Chen, Cesar Aliaga, Yuan Wan Sun, Jyh Ming Lin, Arun K. Sharma, Shantu Amin, Karam El-Bayoumy, 2011, Chemical Research in Toxicology on p. 1297-1303
Mechanisms of oral carcinogenesis induced by dibenzo[a,l]pyrene
Kun Ming Chen, Joseph B. Guttenplan, Shang Min Zhang, Cesar Aliaga, Timothy K. Cooper, Yuan Wan Sun, Joseph Deltondo, Wieslawa Kosinska, Arun K. Sharma, Kun Jiang, Richard Bruggeman, Kwangmi Ahn, Shantu Amin, Karam El-Bayoumy, 2013, International Journal of Cancer on p. 1300-1309
Differential impact of body mass index on absolute and percent breast density
Susann E. Schetter, Terryl J. Hartman, Jason Liao, John P. Richie, Bogdan Prokopczyk, Cindy DuBrock, Carina Signori, Christopher Hamilton, Laurence M. Demers, Karam El-Bayoumy, Andrea Manni, 2014, Breast Cancer Research and Treatment on p. 355-363
Mammary gland density predicts the cancer inhibitory activity of the N-3 to N-6 ratio of dietary fat
Zongjian Zhu, Weiqin Jiang, John N. McGinley, Bogden Prokopczyk, John P. Richie, Karam El Bayoumy, Andrea Manni, Henry J. Thompson, 2011, Cancer Prevention Research on p. 1675-1685
Comparative effects of two different forms of selenium on oxidative stress biomarkers in healthy men
John P. Richie, Arun Das, Ana M. Calcagnotto, Raghu Sinha, Wanda Neidig, Jiangang Liao, Eugene J. Lengerich, Arthur Berg, Terryl J. Hartman, Amy Ciccarella, Aaron Baker, Matthew G. Kaag, Susan Goodin, Robert S. DiPaola, Karam El-Bayoumy, 2014, Cancer Prevention Research on p. 796-804
View More