Joy Pate
Director of the Center for Reproductive Biology and Health; Professor of Reproductive Physiology; C. Lee Rumberger and Family Chair in Agricultural Sciences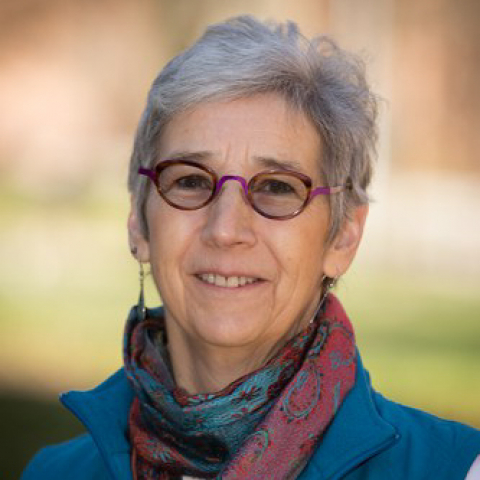 318 ASI
University Park, PA 16802
Research Summary
Specializing in the area of ovarian function. Primary research interests focus on the interactions between steroidogenic and immune cells, and the role of microRNA in development and maintenance of the corpus luteum.

Huck Graduate Students
Huck Affiliations
Publication Tags
These publication tags are generated from the output of this researcher. Click any tag below to view other Huck researchers working on the same topic.
Corpus Luteum
Pregnancy
Micrornas
Cattle
Messenger Rna
Proteins
Ruminants
Mothers
Progesterone
Cells
Cows
Oleoresins
Luteal Cells
Capsicum
Estrous Cycle
Immune Response
Neutrophils
Uterus
Endocrinology
Cholesterol
Dairy Cows
Selenium
Selenoproteins
Rumen
Prostaglandins
Most Recent Publications
Camilla H.K. Hughes, Megan A. Mezera, Milo C. Wiltbank, Joy Lee Pate, 2022, Journal of Animal Science
Alan D. Ealy, Joy L. Pate, W. Ron Butler, 2022, Journal of Animal Science
Joy L. Pate, Alan D. Ealy, 2022, Journal of Animal Science
Cecily V. Bishop, Vimal Selvaraj, David H. Townson, Joy L. Pate, Milo C. Wiltbank, 2022, Journal of Animal Science
Sarah N. Carr, Benjamin R. Crites, Joy L. Pate, Camilla H.K. Hughes, James C. Matthews, Phillip J. Bridges, 2022, Animals
C. H.K. Hughes, A. Rogus, E. K. Inskeep, J. L. Pate, 2021, Reproduction on p. 173-182
Joy L. Pate, 2020, Theriogenology on p. 294-301
Temporal changes in the corpus luteum during early pregnancy reveal regulation of pathways that enhance steroidogenesis and suppress luteolytic mechanisms
C. H.K. Hughes, E. K. Inskeep, J. L. Pate, 2020, Biology of Reproduction on p. 70-84
Jens Vanselow, Lane K. Christenson, Joy L. Pate, 2020, Frontiers in Endocrinology
Camilla H.K. Hughes, Remy Bosviel, John W. Newman, Joy L. Pate, 2019, Frontiers in Endocrinology
View More
Most-Cited Papers
MicroRNA in ovarian function
S. W. Maalouf, W. S. Liu, J. L. Pate, 2016, Cell and Tissue Research on p. 7-18
J. Oh, A. N. Hristov, C. Lee, T. Cassidy, K. Heyler, G. A. Varga, J. Pate, S. Walusimbi, E. Brzezicka, K. Toyokawa, J. Werner, S. S. Donkin, R. Elias, S. Dowd, D. Bravo, 2013, Journal of Dairy Science on p. 7830-7843
Physiology and endocrinology symposium: Role of immune cells in the corpus luteum
S. S. Walusimbi, J. L. Pate, 2013, Journal of Animal Science on p. 1650-1659
J. Oh, F. Giallongo, T. Frederick, J. Pate, S. Walusimbi, R. J. Elias, E. H. Wall, D. Bravo, A. N. Hristov, 2015, Journal of Dairy Science on p. 6327-6339
Regulating life or death: Potential role of microRNA in rescue of the corpus luteum
Samar W. Maalouf, Wan Sheng Liu, Istvan Albert, Joy L. Pate, 2014, Molecular and Cellular Endocrinology on p. 78-88
Samar W. Maalouf, Courtney L. Smith, Joy L. Pate, 2016, Biology of Reproduction on p. 71
Breed-dependent differences in the onset of fear-related avoidance behavior in puppies
Mary Morrow, Joseph Ottobre, Ann Ottobre, Peter Neville, Normand St-Pierre, Nancy Dreschel, Joy L. Pate, 2015, Journal of Veterinary Behavior: Clinical Applications and Research on p. 286-294
Manasi M. Kamat, Sreelakshmi Vasudevan, Samar A. Maalouf, David H. Townson, Joy L. Pate, Troy L. Ott, 2016, Biology of Reproduction on p. 68
Maternal immune responses to conceptus signals during early pregnancy in ruminants
T. L. Ott, M. M. Kamat, S. Vasudevan, D. H. Townson, J. L. Pate, 2014, Animal Reproduction on p. 237-245
Camilla K. Hughes, Samar W. Maalouf, Wansheng Liu, Joy L. Pate, 2019, Biology of Reproduction on p. 1581–1596
View More