James Rosenberger
Professor of Statistics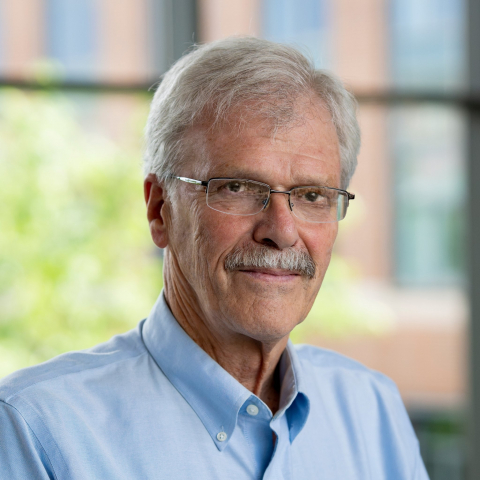 323F Thomas
University Park, PA
He/Him
Huck Affiliations
Publication Tags
These publication tags are generated from the output of this researcher. Click any tag below to view other Huck researchers working on the same topic.
Statistics
Lessons Learned
Display Devices
Spatial Data
Enzyme Linked Immunosorbent Assay
Data Display
Experimental Design
Ecology
Education
Modeling
Therapeutics
Crayfish
Resources
Decapoda
Mucosal Administration
Training
Valley
Hyaluronic Acid
Immunoassay
Workflow
Cambaridae
Discrimination
Joints
Count Data
Robust Design
Most Recent Publications
John P. Ford, Liying Huang, Donald P. Richards, Edward P. Ambinder, James L. Rosenberger, 2016, Journal of Biomedical Informatics on p. 214-223
The Challenges in Developing an Online Applied Statistics Program: Lessons Learned at Penn State University
Derek S. Young, Glenn F. Johnson, Mosuk Chow, James L. Rosenberger, 2015, American Statistician on p. 213-220
A two-stage model for incidence and prevalence in point-level spatial count data
Virginia Recta, Murali Haran, James L. Rosenberger, 2012, Environmetrics on p. 162-174
Correcting bias introduced by aerial counts in angler effort estimation
Byran J. Smucker, Robert M. Lorantas, James L. Rosenberger, 2010, North American Journal of Fisheries Management on p. 1051-1061
The discovery and ecology of a member of the Cambarus acuminatus complex (decapoda: cambaridae) in Valley Creek southeastern Pennsylvania
David A. Lieb, Robert F. Carline, James L. Rosenberger, V. Malissa Mengel, 2008, Journal of Crustacean Biology on p. 439-450
Parameter robust designs for immunoassays: An ELISA example
P. Ndlovu, J. L. Rosenberger, 2006, South African Statistical Journal on p. 55-73
Training graduate students at Penn State University in teaching statistics
W. L. Harkness, J. L. Rosenberger, 2005, American Statistician on p. 11-13
Friedrich Pukelsheim, James L. Rosenberger, 1993, Journal of the American Statistical Association on p. 642-649
Transmucosal administration of midazolam for premedication of pediatric patients: Comparison of the nasal and sublingual routes
H. W. Karl, J. L. Rosenberger, M. G. Larach, J. M. Ruffle, 1993, Anesthesiology on p. 885-891
Evaluation of sodium hyaluronate therapy in induced septic arthritis in the horse.
R. W. Brusie, K. E. Sullins, N. A. White, P. C. Coffin, G. A. Parker, M. R. Anver, J. L. Rosenberger, 1992, Equine veterinary journal. Supplement on p. 18-23
View More
Most-Cited Papers
The Challenges in Developing an Online Applied Statistics Program: Lessons Learned at Penn State University
Derek S. Young, Glenn F. Johnson, Mosuk Chow, James L. Rosenberger, 2015, American Statistician on p. 213-220
John P. Ford, Liying Huang, Donald P. Richards, Edward P. Ambinder, James L. Rosenberger, 2016, Journal of Biomedical Informatics on p. 214-223
View More