Iliana Baums
Professor of Biology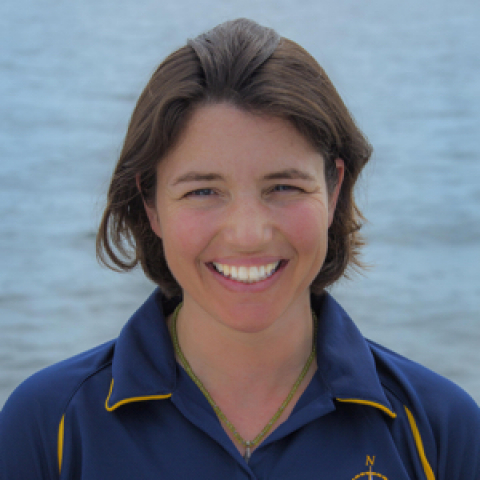 215A Mueller
University Park, PA 16802
Research Summary
Molecular ecology and evolution of reef invertebrates.
Huck Affiliations
Links
Publication Tags
Anthozoa
Coral
Corals
Genotype
Gene Flow
Coral Reefs
Symbionts
Symbiosis
Population
Reefs
Population Dynamics
Population Genetics
Genes
Reef
Gene Expression
Symbiont
Dinoflagellida
Water
Ecosystems
Miozoa
Dinoflagellate
Connectivity
Genet
Bleaching
Polymorphism
Most Recent Papers
STAGdb
S. A. Kitchen, G. Von Kuster, K. L.Vasquez Kuntz, H. G. Reich, W. Miller, S. Griffin, Nicole D. Fogarty, I. B. Baums, 2020, Scientific reports
Deep-sea corals provide new insight into the ecology, evolution, and the role of plastids in widespread apicomplexan symbionts of anthozoans
Samuel A. Vohsen, Kaitlin E. Anderson, Andrea M. Gade, Harald R. Gruber-Vodicka, Richard P. Dannenberg, Eslam O. Osman, Nicole Dubilier, Charles R. Fisher, Iliana B. Baums, 2020, Microbiome
Considerations for maximizing the adaptive potential of restored coral populations in the western Atlantic
Iliana B. Baums, Andrew C. Baker, Sarah W. Davies, Andréa G. Grottoli, Carly D. Kenkel, Sheila A. Kitchen, Ilsa B. Kuffner, Todd C. LaJeunesse, Mikhail V. Matz, Margaret W. Miller, John E. Parkinson, Andrew A. Shantz, 2019, Ecological Applications
What drives phenotypic divergence among coral clonemates of Acropora palmata?
Meghann K. Durante, Iliana B. Baums, Dana E. Williams, Sam Vohsen, Dustin W. Kemp, 2019, Molecular ecology on p. 3208-3224
Genomic variants among threatened Acropora corals
Sheila A. Kitchen, Aakrosh Ratan, Oscar C. Bedoya-Reina, Richard Burhans, Nicole D. Fogarty, Webb Miller, Iliana B. Baums, 2019, G3: Genes, Genomes, Genetics on p. 1633-1646
Clonal diversity impacts coral cover in Acropora cervicornisthickets
Crawford Drury, Justin B. Greer, Iliana Baums, Brooke Gintert, Diego Lirman, 2019, Ecology and Evolution on p. 4518-4531
Metabolomic richness and fingerprints of deep-sea coral species and populations
Samuel A. Vohsen, Charles Raymond Fisher, Jr., Iliana Brigitta Baums, 2019, Metabolomics
Multiple Facets of Marine Invertebrate Conservation Genomics.
J Lopez, B Kamel, Monica Medina, T Collins, Iliana Baums, 2019, Annual review of animal biosciences on p. 473-497
Fallen Pillars
Andrea N. Chan, Cynthia L. Lewis, Karen L. Neely, Iliana B. Baums, 2019, Frontiers in Marine Science
The many facets of marine invertebrate conservation genomics
J.V. Lopez, B. Hannah, Monica Medina, T. Collins, Iliana Baums, 2019, Annual Review of Animal Biosciences
View More
Most-Cited Papers
Connectivity of Caribbean coral populations
Nicola L. Foster, Claire B. Paris, Johnathan T. Kool, Iliana B. Baums, Jamie R. Stevens, Juan A. Sanchez, Carolina Bastidas, Claudia Agudelo, Phillippe Bush, Owen Day, Renata Ferrari, Patricia Gonzalez, Shannon Gore, Reia Guppy, Michael A. McCartney, Croy McCoy, Judith Mendes, Ashwanth Srinivasan, Sascha Steiner, Mark J.A. Vermeij, Ernesto Weil, Peter J. Mumby, 2012, Molecular ecology on p. 1143-1157
New insights into the dynamics between reef corals and their associated dinoflagellate endosymbionts from population genetic studies
Iliana B. Baums, Meghann K. Devlin-Durante, Todd C. Lajeunesse, 2014, Molecular ecology on p. 4203-4215
Geographic differences in vertical connectivity in the Caribbean coral Montastraea cavernosa despite high levels of horizontal connectivity at shallow depths
Xaymara M. Serrano, I. B. Baums, K. O'Reilly, T. B. Smith, R. J. Jones, T. L. Shearer, F. L.D. Nunes, A. C. Baker, 2014, Molecular ecology on p. 4226-4240
No gene flow across the Eastern Pacific Barrier in the reef-building coral Porites lobata
Iliana Brigitta Baums, Jennifer N. Boulay, Nicholas R. Polato, Michael E. Hellberg, 2012, Molecular ecology on p. 5418-5433
Growth dynamics of the threatened caribbean staghorn coral acropora cervicornis
Diego Lirman, Stephanie Schopmeyer, Victor Galvan, Crawford Drury, Andrew C. Baker, Iliana B. Baums, 2014, PloS one on p. e107253
Response of deep-water corals to oil and chemical dispersant exposure
Danielle M. DeLeo, Dannise V. Ruiz-Ramos, Iliana Brigitta Baums, Erik E. Cordes, 2016, Deep-Sea Research Part II: Topical Studies in Oceanography on p. 137-147
Gene expression variation resolves species and individual strains among coral-associated dinoflagellates within the genus symbiodinium
John E. Parkinson, Sebastian Baumgarten, Craig T. Michell, Iliana B. Baums, Todd C. LaJeunesse, Christian R. Voolstra, 2016, Genome biology and evolution on p. 665-680
Coral communities as indicators of ecosystem-level impacts of the deepwater horizon spill
Charles R. Fisher, Amanda W J Demopoulos, Erik E. Cordes, Iliana B. Baums, Helen K. White, Jill R. Bourque, 2014, BioScience on p. 796-807
The extended phenotypes of marine symbioses: Ecological and evolutionary consequences of intraspecific genetic diversity in coral-algal associations
John E. Parkinson, Iliana B. Baums, 2014, Frontiers in Microbiology
Intraspecific diversity among partners drives functional variation in coral symbioses
John Everett Parkinson, Anastazia T. Banaszak, Naomi S. Altman, Todd C. LaJeunesse, Iliana B. Baums, 2015, Scientific reports
View More