Hong Ma
Huck Chair in Plant Reproductive Development and Evolution; Professor of Biology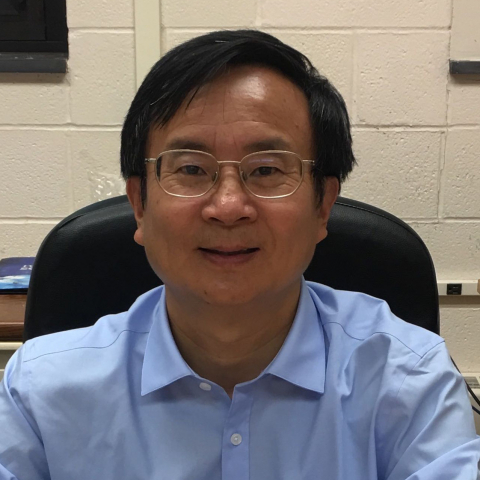 328B Mueller Lab
University Park, PA
Research Summary
Plant development under favorable and stressful conditions; phylogeny and evolutionary biology of plant groups containing major crops and ecologically important species.
Huck Graduate Students
Huck Affiliations
Links
Publication Tags
These publication tags are generated from the output of this researcher. Click any tag below to view other Huck researchers working on the same topic.
Genes
Phylogeny
Genome
Magnoliopsida
Angiosperms
Gene
Rosaceae
Transcriptome
Radiation
History
Polyploidy
Angiospermae
Gene Duplication
Arabidopsis
Poaceae
Transcription Factors
Malus
Datasets
Brassicaceae
Fruit
Alchemilla
Climate
Droughts
Angiosperm
Divergence
Most Recent Publications
Lin‐Bo Wang, Hong Ma, Juan Lin, Journal of Systematics and Evolution
Lei Zhao, Ying Yang, Xiao Qu, Hong Ma, Yi Hu, Hong Li, Ting Yi, De Li, 2023, Annals of botany on p. 199-214
Anzhen Fu, Yanyan Zheng, Jing Guo, Donald Grierson, Xiaoyan Zhao, Changlong Wen, Ye Liu, Jian Li, Xuewen Zhang, Ying Yu, Hong Ma, Qing Wang, Jinhua Zuo, 2023, Horticulture Research
Duoyuan Chen, Taikui Zhang, Yamao Chen, Hong Ma, Ji Qi, 2022, Bioinformatics on p. 5317-5321
Cong Wang, Jiyue Huang, Yingping Li, Jun Zhang, Chengpeng He, Tianyang Li, Danhua Jiang, Aiwu Dong, Hong Ma, Gregory P. Copenhaver, Yingxiang Wang, 2022, Proceedings of the National Academy of Sciences of the United States of America
Lin Bo Wang, Hong Ma, Juan Lin, 2022, Journal of Systematics and Evolution on p. 848-858
Phylogenomic conflict analyses in the apple genus Malus s.l. reveal widespread hybridization and allopolyploidy driving diversification, with insights into the complex biogeographic history in the Northern Hemisphere
Bin Bin Liu, Chen Ren, Myounghai Kwak, Richard G.J. Hodel, Chao Xu, Jian He, Wen Bin Zhou, Chien Hsun Huang, Hong Ma, Guan Ze Qian, De Yuan Hong, Jun Wen, 2022, Journal of Integrative Plant Biology on p. 1020-1043
Weichen Huang, Lin Zhang, J. Travis Columbus, Yi Hu, Yiyong Zhao, Lin Tang, Zhenhua Guo, Wenli Chen, Michael McKain, Madelaine Bartlett, Chien Hsun Huang, De Zhu Li, Song Ge, Hong Ma, 2022, Molecular Plant on p. 755-777
Lin Zhang, Xinxin Zhu, Yiyong Zhao, Jing Guo, Taikui Zhang, Weichen Huang, Jie Huang, Yi Hu, Chien Hsun Huang, Hong Ma, 2022, Molecular Biology and Evolution
Diego F. Morales-Briones, Berit Gehrke, Chien Hsun Huang, Aaron Liston, Hong Ma, Hannah E. Marx, David C. Tank, Ya Yang, 2022, Systematic Biology on p. 190-207
View More
Most-Cited Papers
The Amborella genome and the evolution of flowering plants
Claude W. DePamphilis, Jeffrey D. Palmer, Steve Rounsley, David Sankoff, Stephan C. Schuster, Jetty S.S. Ammiraju, W. Bradley Barbazuk, Srikar Chamala, Andre S. Chanderbali, Ronald Determann, Ma Hong, Paula Ralph, Jason Talag, Lynn Tomsho, Brandon Walts, Stefan Wanke, Rod A. Wing, Tien Hao Chang, Tianying Lan, Douglas E. Soltis, Siwaret Arikit, Michael J. Axtell, Saravanaraj Ayyampalayam, James M. Burnette, Emanuele De Paoli, Nina P. Farrell, Alex Harkess, Yuannian Jiao, James Leebens-Mack, Kun Liu, Wenbin Mei, Blake C. Meyers, Saima Shahid, Eric Wafula, Susan R. Wessler, Jixian Zhai, Xiaoyu Zhang, Victor A. Albert, Lorenzo Carretero-Paulet, Eric Lyons, Haibao Tang, Chunfang Zheng, Naomi S. Altman, Feng Chen, Jian Qun Chen, Vincent Chiang, Joshua P. Der, Bruno Fogliani, Chunce Guo, Jesper Harholt, Claudette Job, Dominique Job, Sangtae Kim, Hongzhi Kong, Guanglin Li, N. Li, Jie Liu, Jongsun Park, Xinshuai Qi, Loïc Rajjou, Valérie Burtet-Sarramegna, Ron Sederoff, Ying Hsuan Sun, Peter Ulvskov, Matthieu Villegente, Jia Yu Xue, Ting Feng Yeh, Xianxian Yu, Juan J. Acosta, Riva A. Bruenn, Alexandre De Kochko, Luis R. Herrera-Estrella, Enrique Ibarra-Laclette, Matias Kirst, Solon P. Pissis, Valérie Poncet, Pamela S. Soltis, 2013, Science
Liping Zeng, Qiang Zhang, Renran Sun, Hongzhi Kong, Ning Zhang, Hong Ma, 2014, Nature Communications
Yezi Xiang, Chien Hsun Huang, Yi Hu, Jun Wen, Shisheng Li, Tingshuang Yi, Hongyi Chen, Jun Xiang, Hong Ma, 2017, Molecular Biology and Evolution on p. 262-281
View More