Hong Ma
Huck Distinguished Research Professor of Plant Molecular Biology; Professor of Biology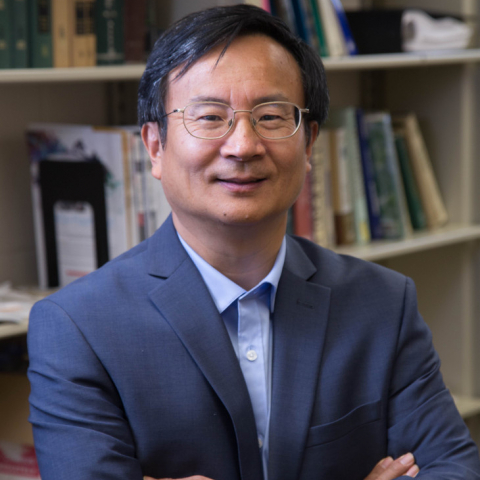 328B Mueller Lab
University Park, PA
Research Summary
Plant development under favorable and stressful conditions; phylogeny and evolutionary biology of plant groups containing major crops and ecologically important species.
Graduate Students
Huck Affiliations
Links
Publication Tags
Genes
Arabidopsis
Phylogeny
Angiosperms
Pollen
Transcriptome
Genome
Gene Expression
Transcription Factors
Proteins
Polyploidy
Radiation
Oryza
Anthers
Meiosis
Chromosome Segregation
Angiospermae
Gene
Brassicaceae
Rna
Mutants
History
Family
Rice
Acyl Carrier Protein
Most Recent Papers
The water lily genome and the early evolution of flowering plants.
Liangsheng Zhang, Hong Ma, 2020,
Angiosperm-wide and family-level analyses of Ap2/Erf genes reveal differential retention and sequence divergence after whole-genome duplication
Linbo Wang, Hong Ma, Juan Lin, 2019, Frontiers in Plant Science
基于转录组和蛋白互作网络分析光信号在花药发育过程中的功能和可能机制
Lin Wei Ruan, Ying Fu, Meng Han Wang, Meng Yu Li, Hong Ma, Fang Chang, 2019, Zhiwu Shengli Xuebao/Plant Physiology Journal on p. 159-168
Reply to Zwaenepoel et al.
Haifeng Wang, Chunce Guo, Hong Ma, Ji Qi, 2019, Molecular plant on p. 137-140
Meiocyte-specific and at SPO11-1-dependent small RNAs and their association with meiotic gene expression and recombination
Jiyue Huang, Cong Wang, Haifeng Wang, Pingli Lu, Binglian Zheng, Hong Ma, Gregory P. Copenhaver, Yingxiang Wanga, 2019, Plant Cell on p. 444-464
The largest subunit of DNA polymerase delta is required for normal formation of meiotic type I Crossovers <sup>1[OPEN]</sup>
Cong Wang, Jiyue Huang, Jun Zhang, Hongkuan Wang, Yapeng Han, Gregory P. Copenhaver, Hong Ma, Yingxiang Wang, 2019, Plant physiology on p. 446-459
The Arabidopsis anaphase-promoting complex/cyclosome subunit 8 is required for male meiosis
Rong Yan Xu, Jing Xu, Liudan Wang, Baixiao Niu, Gregory P. Copenhaver, Hong Ma, Binglian Zheng, Yingxiang Wang, 2019, New Phytologist on p. 229-241
ANAC019 is required for recovery of reproductive development under drought stress in Arabidopsis
Noor Liyana Sukiran, Julia C. Ma, Hong Ma, Zhao Su, 2019, Plant molecular biology on p. 161-174
Aberrant imprinting may underlie evolution of parthenogenesis
Olga Kirioukhova, Jubin N. Shah, Danaé S. Larsen, Muhammad Tayyab, Nora E. Mueller, Geetha Govind, Célia Baroux, Michael Federer, Jacqueline Gheyselinck, Philippa J. Barrell, Hong Ma, Stefanie Sprunck, Bruno Huettel, Helen Wallace, Ueli Grossniklaus, Amal J. Johnston, 2018, Scientific reports
A well-resolved fern nuclear phylogeny reveals the evolution history of numerous transcription factor families
Xinping Qi, Li Yaung Kuo, Chunce Guo, Hao Li, Zhongyang Li, Ji Qi, Linbo Wang, Yi Hu, Jianying Xiang, Caifei Zhang, Jing Guo, Chien Hsun Huang, Hong Ma, 2018, Molecular Phylogenetics and Evolution on p. 961-977
View More
Most-Cited Papers
Ancestral polyploidy in seed plants and angiosperms
Yuannian Jiao, Norman J. Wickett, Saravanaraj Ayyampalayam, André S. Chanderbali, Lena Landherr, Paula E. Ralph, Lynn P. Tomsho, Yi Hu, Haiying Liang, Pamela S. Soltis, Douglas E. Soltis, Sandra W. Clifton, Scott E. Schlarbaum, Stephan C. Schuster, Hong Ma, Jim Leebens-Mack, Claude W. Depamphilis, 2011, Nature on p. 97-100
The Amborella genome and the evolution of flowering plants
Claude W. DePamphilis, Jeffrey D. Palmer, Steve Rounsley, David Sankoff, Stephan C. Schuster, Jetty S.S. Ammiraju, W. Bradley Barbazuk, Srikar Chamala, Andre S. Chanderbali, Ronald Determann, Ma Hong, Paula Ralph, Jason Talag, Lynn Tomsho, Brandon Walts, Stefan Wanke, Rod A. Wing, Tien Hao Chang, Tianying Lan, Douglas E. Soltis, Siwaret Arikit, Michael J. Axtell, Saravanaraj Ayyampalayam, James M. Burnette, Emanuele De Paoli, Nina P. Farrell, Alex Harkess, Yuannian Jiao, James Leebens-Mack, Kun Liu, Wenbin Mei, Blake C. Meyers, Saima Shahid, Eric Wafula, Susan R. Wessler, Jixian Zhai, Xiaoyu Zhang, Victor A. Albert, Lorenzo Carretero-Paulet, Eric Lyons, Haibao Tang, Chunfang Zheng, Naomi S. Altman, Feng Chen, Jian Qun Chen, Vincent Chiang, Joshua P. Der, Bruno Fogliani, Chunce Guo, Jesper Harholt, Claudette Job, Dominique Job, Sangtae Kim, Hongzhi Kong, Guanglin Li, N. Li, Jie Liu, Jongsun Park, Xinshuai Qi, Loïc Rajjou, Valérie Burtet-Sarramegna, Ron Sederoff, Ying Hsuan Sun, Peter Ulvskov, Matthieu Villegente, Jia Yu Xue, Ting Feng Yeh, Xianxian Yu, Juan J. Acosta, Riva A. Bruenn, Alexandre De Kochko, Luis R. Herrera-Estrella, Enrique Ibarra-Laclette, Matias Kirst, Solon P. Pissis, Valérie Poncet, Pamela S. Soltis, 2013, Science
Identification of shared single copy nuclear genes in Arabidopsis, Populus, Vitis and Oryza and their phylogenetic utility across various taxonomic levels
Jill M. Duarte, P. Kerr Wall, Patrick P. Edger, Lena L. Landherr, Hong Ma, J. Chris Pires, Jim Leebens-Mack, Claude W. Depamphilis, 2010, BMC Evolutionary Biology
Resolution of deep angiosperm phylogeny using conserved nuclear genes and estimates of early divergence times
Liping Zeng, Qiang Zhang, Renran Sun, Hongzhi Kong, Ning Zhang, Hong Ma, 2014, Nature communications
Brassinosteroids control male fertility by regulating the expression of key genes involved in Arabidopsis anther and pollen development
Qianqian Ye, Wenjiao Zhu, Lei Li, Shanshan Zhang, Yanhai Yin, Hong Ma, Xuelu Wang, 2010, Proceedings of the National Academy of Sciences of the United States of America on p. 6100-6105
Carbon Starved Anther encodes a MYB domain protein that regulates sugar partitioning required for rice pollen development
Hui Zhang, Wanqi Liang, Xijia Yang, Xue Luo, Ning Jiang, Hong Ma, Dabing Zhang, 2010, Plant Cell on p. 672-689
Defective pollen wall is required for anther and microspore development in rice and encodes a fatty acyl carrier protein reductase
Jing Shi, Hexin Tan, Xiao Hong Yu, Yuanyun Liu, Wanqi Liang, Kosala Ranathunge, Rochus Benni Franke, Lukas Schreiber, Yujiong Wang, Guoying Kai, John Shanklin, Hong Ma, Dabing Zhang, 2011, Plant Cell on p. 2225-2246
Highly conserved low-copy nuclear genes as effective markers for phylogenetic analyses in angiosperms
Ning Zhang, Liping Zeng, Hongyan Shan, Hong Ma, 2012, New Phytologist on p. 923-937
The transcriptome landscape of Arabidopsis male meiocytes from high-throughput sequencing
Hongxing Yang, Pingli Lu, Yingxiang Wang, Hong Ma, 2011, Plant Journal on p. 503-516
Resolution of brassicaceae phylogeny using nuclear genes uncovers nested radiations and supports convergent morphological evolution
Chien Hsun Huang, Renran Sun, Yi Hu, Liping Zeng, Ning Zhang, Liming Cai, Qiang Zhang, Marcus A. Koch, Ihsan Al-Shehbaz, Patrick P. Edger, J. Chris Pires, Dun Yan Tan, Yang Zhong, Hong Ma, 2016, Molecular biology and evolution on p. 394-412
View More