Gustavo Nader
Associate Professor of Kinesiology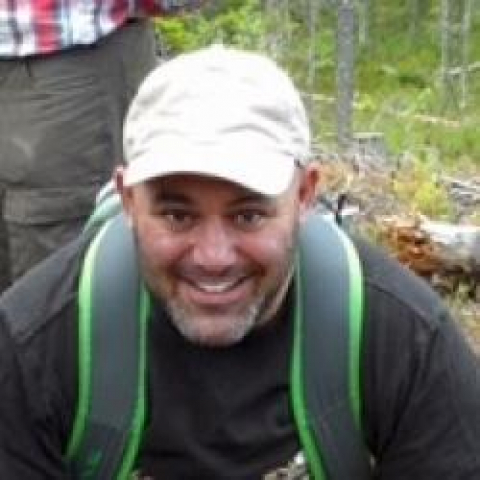 101 Noll Lab
University Park, PA
Research Summary
Skeletal muscle growth control and adaptations to exercise. Ribosome biogenesis, transcriptional and epigenetic regulation of RNA Polymerase I.
Graduate Students
Huck Affiliations
Links
Publication Tags
Muscles
Skeletal Muscle
Gene Expression
Hypertrophy
Proteins
Exercise
Ribosomal Dna
Ribosomes
Genes
Skeletal Muscle Fibers
Amp Activated Protein Kinases
Resistance Training
Sirolimus
Chromatin Assembly And Disassembly
Microarray Analysis
Infliximab
Carbon Monoxide
Rheumatoid Arthritis
Growth
Transcriptome
Cytokines
Extracellular Matrix
Muscle Proteins
Up Regulation
Anti Inflammatory Agents
Most Recent Papers
Reduced skeletal muscle expression of mitochondrial-derived peptides humanin and MOTS-C and Nrf2 in chronic kidney disease
Chang Liu, Eva Karin Gidlund, Anna Witasp, Abdul Rashid Qureshi, Magnus Söderberg, Anders Thorell, Gustavo A. Nader, Peter Barany, Peter Stenvinkel, Ferdinand von Walden, 2019, American journal of physiology. Renal physiology on p. F1122-F1131
Regulation of Ribosome Biogenesis during Skeletal Muscle Hypertrophy
Hyo Gun Kim, Bin Guo, Gustavo A. Nader, 2019, Exercise and Sport Sciences Reviews on p. 91-97
The mitochondrial peptides humanin and MOTS-C are differentially regulated in chronic kidney disease: links to mitochondrial dysfunction and oxidative stress
Chang Liu, Gustavo Nader, 2019, Am J Physiol – Renal Physiology
Muscle contractures in patients with cerebral palsy and acquired brain injury are associated with extracellular matrix expansion, pro-inflammatory gene expression, and reduced rRNA synthesis
Ferdinand Von Walden, Stefan Gantelius, Chang Liu, Hanna Borgström, Lars Björk, Ola Gremark, Per Stål, Gustavo Alberto Nader, Eva PontéN, 2018, Muscle and Nerve on p. 277-285
mTOR signaling regulates myotube hypertrophy by modulating protein synthesis, rDNA transcription, and chromatin remodeling
Ferdinand von Walden, Chang Liu, Nicole Aurigemma, Gustavo A. Nader, 2016, American Journal of Physiology - Cell Physiology on p. C663-C672
Commentaries on Viewpoint: The rigorous study of exercise adaptations: Why mRNA might not be enough?
Gustavo Nader, 2016, J Appl Physiol (1985) on p. 597-600
Muscle wasting in end-stage renal disease promulgates premature death: established, emerging and potential novel treatment strategies
P. Stenvinkel, J. Carrero, F. von Walden, T. Ikizler, Gustavo Nader, 2016, Nephrol Dial Transplant on p. 1070-7
AMPKγ3 is dispensable for skeletal muscle hypertrophy induced by functional overload
Isabelle Riedl, Megan E. Osler, Marie Björnholm, Brendan Egan, Gustavo Alberto Nader, Alexander V. Chibalin, Juleen R. Zierath, 2016, American Journal of Physiology - Endocrinology and Metabolism on p. E461-E472
Loss of REDD1 augments the rate of the overload-induced increase in muscle mass
Bradley S. Gordon, Chang Liu, Jennifer L. Steiner, Gustavo A. Nader, Leonard S. Jefferson, Scot R. Kimball, 2016, American Journal of Physiology - Regulatory Integrative and Comparative Physiology on p. R545-R557
Guidelines for the use and interpretation of assays for monitoring autophagy
D. Klionsky, K. Abdelmohshen, A. Abe, M. Abedin, H. Abeliovich, A. Acevedo Arozena, H. Adachi, C. Adams, Gustavo Nader, 2016, Autophagy on p. 1-222
View More
Most-Cited Papers
Resistance exercise training modulates acute gene expression during human skeletal muscle hypertrophy
G. A. Nader, F. Von Walden, C. Liu, J. Lindvall, L. Gutmann, E. E. Pistilli, P. M. Gordon, 2014, Journal of applied physiology on p. 693-702
The gene expression profile in the synovium as a predictor of the clinical response to infliximab treatment in rheumatoid arthritis
Johan Lindberg, Carla A. Wijbrandts, Lisa G. van Baarsen, Gustavo Nader, Lars Klareskog, Anca Catrina, Rogier Thurlings, Margriet Vervoordeldonk, Joakim Lundeberg, Paul P. Tak, 2010, PloS one on p. e11310
High CO<sub>2</sub> levels cause skeletal muscle atrophy via AMP-activated kinase (AMPK), FoxO3a protein, and muscle-specific ring finger protein 1 (MuRF1)
Ariel Jaitovich, Martín Angulo, Emilia Lecuona, Laura A. Dada, Lynn C. Welch, Yuan Cheng, Galina Gusarova, Ermelinda Ceco, Chang Liu, Masahiko Shigemura, Esther Barreiro, Cam Patterson, Gustavo A. Nader, Jacob I. Sznajder, 2015, Journal of Biological Chemistry on p. 9183-9194
A longitudinal, integrated, clinical, histological and mRNA profiling study of resistance exercise in myositis
Gustavo Alberto Nader, Maryam Dastmalchi, Helene Alexanderson, Cecilia Grundtman, Ramkishore Gernapudi, Mona Esbjörnsson, Zuyi Wang, Johan Rönnelid, Eric P. Hoffman, Kanneboyina Nagaraju, Ingrid E. Lundberg, 2010, Molecular Medicine on p. 455-464
Resistance exercise training influences skeletal muscle immune activation
Paul M. Gordon, Dongmei Liu, Maureen A. Sartor, Heidi B. IglayReger, Emidio E. Pistilli, Laurie Gutmann, Gustavo A. Nader, Eric P. Hoffman, 2012, Journal of applied physiology on p. 443-453
Mechanical loading induces the expression of a Pol I regulon at the onset of skeletal muscle hypertrophy
Ferdinand von Walden, Vandre Casagrande, Ann Kristin Östlund Farrants, Gustavo A. Nader, 2012, American Journal of Physiology - Cell Physiology on p. C1523-C1530
Skeletal muscle gene expression in response to resistance exercise
Dongmei Liu, Maureen A. Sartor, Gustavo A. Nader, Laurie Gutmann, Mary K. Treutelaar, Emidio E. Pistilli, Heidi B. IglayReger, Charles F. Burant, Eric P. Hoffman, Paul M. Gordon, 2010, BMC genomics
Anti-inflammatory cytokine profile in early human tendon repair
P. W. Ackermann, E. Domeij-Arverud, P. Leclerc, P. Amoudrouz, Gustavo Alberto Nader, 2013, Knee Surgery, Sports Traumatology, Arthroscopy on p. 1801-1806
Microarray analysis reveals novel features of the muscle aging process in men and women
Dongmei Liu, Maureen A. Sartor, Gustavo A. Nader, Emidio E. Pistilli, Leah Tanton, Charles Lilly, Laurie Gutmann, Heidi B. Iglayreger, Paul S. Visich, Eric P. Hoffman, Paul M. Gordon, 2013, Journals of Gerontology - Series A Biological Sciences and Medical Sciences on p. 1035-1044
mTOR signaling regulates myotube hypertrophy by modulating protein synthesis, rDNA transcription, and chromatin remodeling
Ferdinand von Walden, Chang Liu, Nicole Aurigemma, Gustavo A. Nader, 2016, American Journal of Physiology - Cell Physiology on p. C663-C672
View More