Gary Perdew
Director of the Center for Molecular Toxicology and Carcinogenesis; John T. and Paige S. Smith Professor in Agricultural Sciences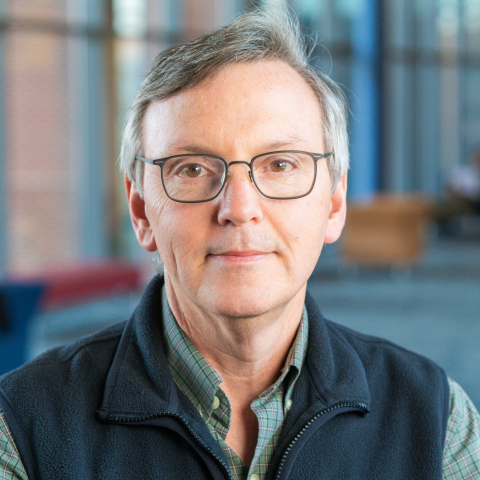 309 Huck Life Sciences
University Park, PA
Research Summary
Mechanisms of receptor-mediated carcinogenesis.
Huck Affiliations
Links
Publication Tags
Aryl Hydrocarbon Receptors
Ligands
Hydrocarbons
Human Ahr Protein
Interleukin 6
Microbiota
Indican
Polychlorinated Biphenyls
Dioxins
Response Elements
Anti Inflammatory Agents
Chemical Activation
Modulators
Kynurenic Acid
2,8 Dihydroxyquinoline
France
Genes
Metabolism
Sulfates
Xenobiotics
Cytokines
Molecules
Cells
Homeostasis
Skin
Most Recent Papers
RESEARCH PROJECT OUTLINE
Jeffrey Peters, Gary Perdew,
Evolution of the human Ah receptor conferred desensitization to smoke-derived toxicants
Gary Perdew, Nina Jablonski, Molecular Biology and Evolution on p. 2648-58
Metatranscriptomic Analysis of the Mouse Gut Microbiome Response to the Persistent Organic Pollutant 2,3,7,8-Tetrachlorodibenzofuran.
Renea Nichols, Jian Zhang, Jingjing Cai, Iain Murray, I Koo, Philip Smith, Gary Perdew, Andrew Patterson, 2019, Metabolites
Selective Ah receptor ligands mediate enhanced SREBP1 proteolysis to restrict lipogenesis in sebocytes.
G Muku, N Blazanin, F Dong, Philip Smith, Diane Thiboutot, Krishnegowda Gowdahalli, Shantu Amin, Iain Murray, Gary Perdew, 2019, Toxicological sciences : an official journal of the Society of Toxicology on p. 146-158
Isolation and identification of aryl hydrocarbon receptor modulators in white button mushrooms (Agaricus bisporus)
Yuan Tian, Wei Gui, Philip B. Smith, Imhoi Koo, Iain A. Murray, Margherita T. Cantorna, Gary H. Perdew, Andrew D. Patterson, 2019, Journal of agricultural and food chemistry on p. 9286-9294
Microbiota Metabolism Promotes Synthesis of the Human Ah Receptor Agonist 2,8-Dihydroxyquinoline
Troy D. Hubbard, Qing Liu, Iain A. Murray, Fangcong Dong, Charles Miller, Philip B. Smith, Krishne Gowda, Jyh Ming Lin, Shantu Amin, Andrew D. Patterson, Gary H. Perdew, 2019, Journal of Proteome Research on p. 1715-1724
Selective Ah receptor modulators attenuate NPC1L1-mediated cholesterol uptake through repression of SREBP-2 transcriptional activity
Gulsum E. Muku, Ann Kusnadi, Guray Kuzu, Rachel Tanos, Iain Alexander Murray, Krishne Gowda, Shantu Amin, Gary H. Perdew, 2019, Laboratory Investigation
PCB126 blocks the thermogenic beiging response of adipocytes
Francoise A. Gourronc, Gary H. Perdew, Larry W. Robertson, Aloysius J. Klingelhutz, 2019, Environmental Science and Pollution Research
Urolithin a is a dietary microbiota-derived human aryl hydrocarbon receptor antagonist
Gulsum E. Muku, Iain A. Murray, Juan C. Espín, Gary H. Perdew, 2018, Metabolites
Old receptor, new tricks—The ever-expanding universe of aryl hydrocarbon receptor functions. Report from the 4th AHR meeting, 29–31 August 2018 in Paris, France
Charlotte Esser, B. Paige Lawrence, David H. Sherr, Gary H. Perdew, Alvaro Puga, Robert Barouki, Xavier Coumoul, 2018, International journal of molecular sciences
View More
Most-Cited Papers
Aryl hydrocarbon receptor antagonists promote the expansion of human hematopoietic stem cells
Anthony E. Boitano, Jian Wang, Russell Romeo, Laure C. Bouchez, Albert E. Parker, Sue E. Sutton, John R. Walker, Colin A. Flaveny, Gary H. Perdew, Michael S. Denison, Peter G. Schultz, Michael P. Cooke, 2010, Science on p. 1345-1348
Kynurenic acid is a potent endogenous aryl hydrocarbon receptor ligand that synergistically induces interleukin-6 in the presence of inflammatory signaling
Brett C. DiNatale, Iain A. Murray, Jennifer C. Schroeder, Colin A. Flaveny, Tejas S. Lahoti, Elizabeth M. Laurenzana, Curtis J. Omiecinski, Gary H. Perdew, 2010, Toxicological Sciences on p. 89-97
The uremic toxin 3-indoxyl sulfate is a potent endogenous agonist for the human aryl hydrocarbon receptor
Jennifer C. Schroeder, Brett C. DiNatale, Iain A. Murray, Colin A. Flaveny, Qiang Liu, Elizabeth M. Laurenzana, Jyh Ming Lin, Stephen C. Strom, Curtis J. Omiecinski, Shantu Amin, Gary H. Perdew, 2010, Biochemistry on p. 393-400
Persistent organic pollutants modify gut microbiota–host metabolic homeostasis in mice through aryl hydrocarbon receptor activation
Limin Zhang, Robert G. Nichols, Jared Correll, Iain A. Murray, Naoki Tanaka, Philip B. Smith, Troy D. Hubbard, Aswathy Sebastian, Istvan Albert, Emmanuel Hatzakis, Frank J. Gonzalez, Gary H. Perdew, Andrew D. Patterson, 2015, Environmental health perspectives on p. 679-688
Adaptation of the human aryl hydrocarbon receptor to sense microbiota-derived indoles
Troy D. Hubbard, Iain A. Murray, William H. Bisson, Tejas S. Lahoti, Krishne Gowda, Shantu G. Amin, Andrew D. Patterson, Gary H. Perdew, 2015, Scientific reports
Mechanistic insights into the events that lead to synergistic induction of interleukin 6 transcription upon activation of the aryl hydrocarbon receptor and inflammatory signaling
Brett C. DiNatale, Jennifer C. Schroeder, Lauren J. Francey, Ann Kusnadi, Gary H. Perdew, 2010, Journal of Biological Chemistry on p. 24388-24397
Evidence for ligand-mediated selective modulation of aryl hydrocarbon receptor activity
Iain A. Murray, Jose L. Morales, Colin A. Flaveny, Brett C. DiNatale, Chris Chiaro, Krishnegowda Gowdahalli, Shantu Amin, Gary H. Perdew, 2010, Molecular pharmacology on p. 247-254
Development of a selective modulator of aryl hydrocarbon (Ah) receptor activity that exhibits anti-inflammatory properties
Iain A. Murray, Gowdahalli Krishnegowda, Brett C. Dinatale, Colin Flaveny, Chris Chiaro, Jyh Ming Lin, Arun K. Sharma, Shantu Amin, Gary H. Perdew, 2010, Chemical research in toxicology on p. 955-966
Identification of a high-affinity ligand that exhibits complete aryl hydrocarbon receptor antagonism
Kayla J. Smith, Iain Alexander Murray, Rachel Tanos, John Tellew, Anthony E. Boitano, William H. Bisson, Siva K. Kolluri, Michael P. Cooke, Gary H. Perdew, 2011, Journal of Pharmacology and Experimental Therapeutics on p. 318-327
Antagonism of aryl hydrocarbon receptor signaling by 6,2′,4′- trimethoxyflavone
Iain A. Murray, Colin A. Flaveny, Brett C. DiNatale, Chris R. Chairo, Jennifer C. Schroeder, Ann Kusnadi, Gary H. Perdew, 2010, Journal of Pharmacology and Experimental Therapeutics on p. 135-144
View More