Emily Davenport
Assistant Professor of Biology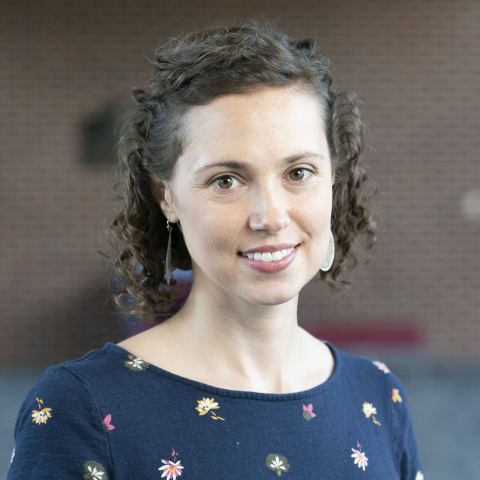 305 Wartik
University Park, PA
Research Summary
Understanding the complex relationship humans have with our microbiomes, using high-throughput sequencing technologies and novel computational and statistical techniques.
Huck Affiliations
Links
Publication Tags
Genes
Microbiota
Gastrointestinal Microbiome
Microbiome
Population
Chemical Analysis
Digestive System
Software
Gene Expression
Genome
Diet
Obesity
Life Style
Lifestyle
Bacteria
Genome Wide Association Study
Phenotype
Programming Languages
Adiposity
Primates
Computational Biology
Himalayan Region
Sampling
Genetic Variation
Body Mass Index
Most Recent Papers
The relationship between the gut microbiome and host gene expression: a review
Robert Nichols, Emily Davenport, Human Genetics
Leveraging phenotypic variability to identify genetic interactions in human phenotypes
Andrew R. Marderstein, Emily R. Davenport, Scott Kulm, Cristopher V. Van Hout, Olivier Elemento, Andrew G. Clark, 2021, American Journal of Human Genetics on p. 49-67
Leveraging phenotypic variability to identify genetic interactions in human phenotypes.
Andrew Marderstein, Emily Davenport, S Kulm, C Van Hout, O Elemento, Andrew Clark, 2020, American Journal of Human Genetics
Genetic Variation Shapes Murine Gut Microbiota via Immunity.
Emily Davenport, 2020, Trends in Immunology
Lack of spatial and temporal genetic structure of Japanese eel (Anguilla japonica) populations
Xiaoling Gong, Emily Davenport, Dehai Wang, Andrew G. Clark, 2019, Conservation Genetics on p. 467-475
Integrated analysis of population genomics, transcriptomics and virulence provides novel insights into Streptococcus pyogenes pathogenesis
Priyanka Kachroo, Jesus M. Eraso, Stephen B. Beres, Randall J. Olsen, Luchang Zhu, Waleed Nasser, Paul E. Bernard, Concepcion C. Cantu, Matthew Ojeda Saavedra, María José Arredondo, Benjamin Strope, Hackwon Do, Muthiah Kumaraswami, Jaana Vuopio, Kirsi Gröndahl-Yli-Hannuksela, Karl G. Kristinsson, Magnus Gottfredsson, Maiju Pesonen, Johan Pensar, Emily Davenport, Andrew G. Clark, Jukka Corander, Dominique A. Caugant, Shahin Gaini, Marita Debess Magnussen, Samantha L. Kubiak, Hoang A.T. Nguyen, S. Wesley Long, Adeline R. Porter, Frank R. DeLeo, James M. Musser, 2019, Nature Genetics on p. 548-559
Gut microbiome transition across a lifestyle gradient in Himalaya
Aashish R. Jha, Emily R. Davenport, Yoshina Gautam, Dinesh Bhandari, Sarmila Tandukar, Katharine M. Ng, Gabriela K. Fragiadakis, Susan Holmes, Guru Prasad Gautam, Jeff Leach, Jeevan Bahadur Sherchand, Carlos D. Bustamante, Justin L. Sonnenburg, 2018, PLoS Biology on p. e2005396
The human microbiome in evolution.
Emily Davenport, J Sanders, S Song, K Amato, A Clark, R Knight, 2017, BMC biology on p. 127
The Relationship Between the Human Genome and Microbiome Comes into View.
J Goodrich, Emily Davenport, A Clark, R Ley, 2017, Annual review of genetics on p. 413-433
Tooth Be Told, Genetics Influences Oral Microbiome.
Emily Davenport, 2017, Cell host & microbe on p. 251-253
View More
Most-Cited Papers
Genetic Determinants of the Gut Microbiome in UK Twins
Julia K. Goodrich, Emily R. Davenport, Michelle Beaumont, Matthew A. Jackson, Rob Knight, Carole Ober, Tim D. Spector, Jordana T. Bell, Andrew G. Clark, Ruth E. Ley, 2016, Cell Host and Microbe on p. 731-743
Taxonomic Classification of Bacterial 16S rRNA Genes Using Short Sequencing Reads
Orna Mizrahi-Man, Emily R. Davenport, Yoav Gilad, 2013, PLoS One on p. e53608
Seasonal variation in human gut microbiome composition
Emily R. Davenport, Orna Mizrahi-Man, Katelyn Michelini, Luis B. Barreiro, Carole Ober, Yoav Gilad, 2014, PLoS One on p. e90731
Genome-wide association studies of the human gut microbiota
Emily R. Davenport, Darren A. Cusanovich, Katelyn Michelini, Luis B. Barreiro, Carole Ober, Yoav Gilad, 2015, PLoS One on p. e0140301
Heritable components of the human fecal microbiome are associated with visceral fat
Michelle Beaumont, Julia K. Goodrich, Matthew A. Jackson, Idil Yet, Emily R. Davenport, Sara Vieira-Silva, Justine Debelius, Tess Pallister, Massimo Mangino, Jeroen Raes, Rob Knight, Andrew G. Clark, Ruth E. Ley, Tim D. Spector, Jordana T. Bell, 2016, Genome Biology on p. 189
A Quick Introduction to Version Control with Git and GitHub
John D. Blischak, Emily R. Davenport, Greg Wilson, 2016, PLoS Computational Biology on p. e1004668
Epigenetic modifications are associated with inter-species gene expression variation in primates
Xiang Zhou, Carolyn E. Cain, Marsha Myrthil, Noah Lewellen, Katelyn Michelini, Emily R. Davenport, Matthew Stephens, Jonathan K. Pritchard, Yoav Gilad, 2014, Genome Biology
Gut microbiome transition across a lifestyle gradient in Himalaya
Aashish R. Jha, Emily R. Davenport, Yoshina Gautam, Dinesh Bhandari, Sarmila Tandukar, Katharine M. Ng, Gabriela K. Fragiadakis, Susan Holmes, Guru Prasad Gautam, Jeff Leach, Jeevan Bahadur Sherchand, Carlos D. Bustamante, Justin L. Sonnenburg, 2018, PLoS Biology on p. e2005396
Host genetic variation in mucosal immunity pathways influences the upper airway microbiome
Catherine Igartua, Emily R. Davenport, Yoav Gilad, Dan L. Nicolae, Jayant Pinto, Carole Ober, 2017, Microbiome on p. 16
ABO antigen and secretor statuses are not associated with gut microbiota composition in 1,500 twins
Emily R. Davenport, Julia K. Goodrich, Jordana T. Bell, Tim D. Spector, Ruth E. Ley, Andrew G. Clark, 2016, BMC Genomics on p. 941
View More