Edward O'Brien
Professor of Chemistry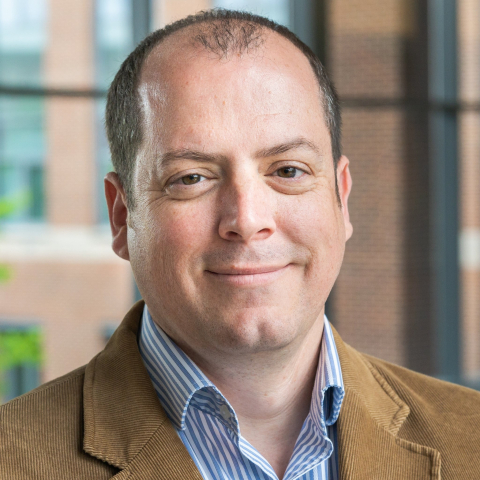 0104 Chemistry
University Park, PA
He/His
Research Summary
Developing and applying Physical Bioinformatic techniques to measure rates of translation transcriptome-wide and their molecular origins as relates to fundamental biology and disease.
Huck Graduate Students
Huck Affiliations
Publication Tags
These publication tags are generated from the output of this researcher. Click any tag below to view other Huck researchers working on the same topic.
Proteins
Protein Folding
Protein
Kinetics
Enzymes
Codon
Ribosomes
Messenger Rna
Simulation
Proteome
Genes
Molecular Dynamics
Folding
Antibodies
Genome
Biochemistry
Proteostasis
Molecules
Mechanics
Mutation
Silent Mutation
Molecule
Quality Control
Viruses
Reaction Kinetics
Most Recent Publications
How soluble misfolded proteins bypass chaperones at the molecular level
Ritaban Halder, Daniel A. Nissley, Ian Sitarik, Yang Jiang, Yiyun Rao, Quyen V. Vu, Mai Suan Li, Justin Pritchard, Edward P. O'Brien, 2023, Nature Communications
Quyen V. Vu, Daniel A. Nissley, Yang Jiang, Edward P. O'Brien, Mai Suan Li, 2023, Journal of Physical Chemistry B on p. 4761-4774
Modeling Ensembles of Enzyme Reaction Pathways with Hi-MSM Reveals the Importance of Accounting for Pathway Diversity
Joseph R. Persichetti, Yang Jiang, Phillip S. Hudson, Edward P. O'Brien, 2022, Journal of Physical Chemistry B on p. 9748-9758
Daniel A. Nissley, Yang Jiang, Fabio Trovato, Ian Sitarik, Karthik B. Narayan, Philip To, Yingzi Xia, Stephen D. Fried, Edward P. O'Brien, 2022, Nature Communications
Mang Zhu, Erich R. Kuechler, Ryan W.K. Wong, Gaetano Calabrese, Ian M. Sitarik, Viraj Rana, Nikolay Stoynov, Edward P. O'Brien, Jörg Gsponer, Thibault Mayor, 2022, Cell Reports
Hung Nguyen, Pham Dang Lan, Daniel A. Nissley, Edward P. O'Brien, Mai Suan Li, 2022, Journal of Physical Chemistry B on p. 2812-2823
B Zhao, Y Rao, S Leighow, Edward P. O'Brien, L Gilbert, Justin R. Pritchard, 2022, Nature Communications on p. 625
Erratum: Ribosome Elongation Kinetics of Consecutively Charged Residues Are Coupled to Electrostatic Force (Biochemistry (2021) 60:43 (3223−3235) DOI:10.1021/acs.biochem.1c00507)
Sarah E. Leininger, Judith Rodriguez, Quyen V. Vu, Yang Jiang, Mai Suan Li, Carol Deutsch, Edward P. O'Brien, 2022, Biochemistry on p. 125
Y Jiang, Syam Neti, Ian Sitarik, P Pradhan, Philip To, Yingzi Xia, Stephen Fried, Squire J. Booker, Edward P. O'Brien, 2022, Nature Chemistry on p. 308-+
Ajeet K. Sharma, Johannes Venezian, Ayala Shiber, Günter Kramer, Bernd Bukau, Edward P. O'Brien, 2021, Proceedings of the National Academy of Sciences of the United States of America
View More
Most-Cited Papers
Ola B. Nilsson, Rickard Hedman, Jacopo Marino, Stephan Wickles, Lukas Bischoff, Magnus Johansson, Annika Müller-Lucks, Fabio Trovato, Joseph D. Puglisi, Edward P. O'Brien, Roland Beckmann, Gunnar von Heijne, 2015, Cell Reports on p. 1533-1540
Kristina Döring, Nabeel Ahmed, Trine Riemer, Harsha Garadi Suresh, Yevhen Vainshtein, Markus Habich, Jan Riemer, Matthias P. Mayer, Edward P. O'Brien, Günter Kramer, Bernd Bukau, 2017, Cell on p. 298-311.e20
Hoang Linh Nguyen, Pham Dang Lan, Nguyen Quoc Thai, Daniel A. Nissley, Edward P. O'Brien, Mai Suan Li, 2020, Journal of Physical Chemistry B on p. 7336-7347
Understanding the influence of codon translation rates on cotranslational protein folding
Edward P. O'Brien, Prajwal Ciryam, Michele Vendruscolo, Christopher M. Dobson, 2014, Accounts of Chemical Research on p. 1536-1544
Edward P. O'brien, Michele Vendruscolo, Christopher M. Dobson, 2014, Nature Communications
Protein folding: From theory to practice
D. Thirumalai, Zhenxing Liu, Edward P. O'Brien, Govardhan Reddy, 2013, Current Opinion in Structural Biology on p. 22-29
Ajeet K. Sharma, Edward P. O'Brien, 2018, Current Opinion in Structural Biology on p. 94-103
Timing is everything: Unifying Codon translation rates and nascent proteome behavior
Daniel A. Nissley, Edward P. Obrien, 2014, Journal of the American Chemical Society on p. 17892-17898
Daniel A. Nissley, Ajeet K. Sharma, Nabeel Ahmed, Ulrike A. Friedrich, Günter Kramer, Bernd Bukau, Edward P. O'Brien, 2016, Nature Communications
Avi J. Samelson, Eric Bolin, Shawn M. Costello, Ajeet K. Sharma, Edward P. O'Brien, Susan Marqusee, 2018, Science advances
View More