Deb Kelly
Director of the Center for Structural Oncology; Huck Chair in Molecular Biophysics; Professor of Biomedical Engineering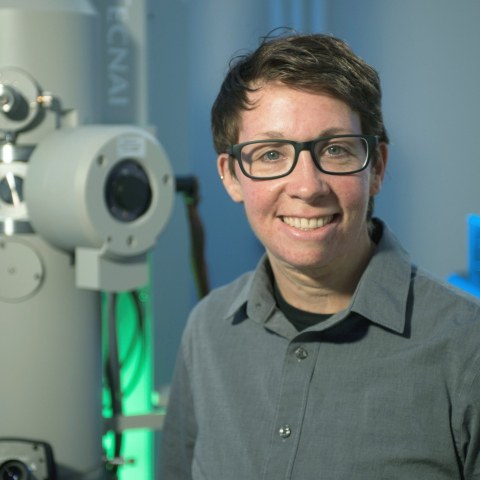 506 Chemical and Biomedical Engineering
University Park, PA
Research Summary
Engineering new molecular paradigms to create a world without cancer.
Huck Graduate Students
Huck Affiliations
Links
Publication Tags
These publication tags are generated from the output of this researcher. Click any tag below to view other Huck researchers working on the same topic.
Liquids
Nanoparticles
Glioblastoma
Imaging Techniques
Electrons
Stem Cells
Transmission Electron Microscopy
Tomography
Therapeutics
Magnetic Resonance Imaging
Block Copolymers
Macromolecules
Pathogens
Visualization
Electron Microscopes
Electron Particle
Phosphatidylinositol 3 Kinase
Viruses
Chromium Hexavalent Ion
Biological Systems
Iron Oxides
Bacteriophages
Liquid
Cells
Genes
Most Recent Publications
Deborah Kelly, Advanced Materials on p. 2103221
Deborah Kelly, Nanoscale on p. 7285-7293
Advancing high-resolution imaging of virus assemblies in liquid and ice
Deborah Kelly, Journal of Visualized Experiments
Structural Insights of the SARS-CoV-2 Nucleocapsid Protein: implications for the inner-workings of rapid antigen tests
Deborah Kelly, Microscopy and Microanalysis
Deborah Kelly, Current Opinion in Structural Biology
High-resolution imaging of human cancer proteins using microprocessor materials.
Deborah Kelly,
Deborah Kelly, Microscopy Today
Deborah Kelly, International Journal of Molecular Sciences
Kevin J. Pridham, Farah Shah, Kasen R. Hutchings, Kevin L. Sheng, Sujuan Guo, Min Liu, Pratik Kanabur, Samy Lamouille, Gabrielle Lewis, Marc Morales, Jane Jourdan, Christina L. Grek, Gautam G. Ghatnekar, Robin Varghese, Deborah F. Kelly, Robert G. Gourdie, Zhi Sheng, 2022, Oncogenesis
View More
Most-Cited Papers
Sujuan Guo, Yanping Liang, Susan Murphy, Angela Huang, Haihong Shen, Deborah F. Kelly, Pablo Sobrado, Zhi Sheng, 2015, Autophagy on p. 560-572
Toward design of magnetic nanoparticle clusters stabilized by biocompatible diblock copolymers for T <sub>2</sub>-weighted MRI contrast
Sharavanan Balasubramaniam, Sanem Kayandan, Yin Nian Lin, Deborah F. Kelly, Michael J. House, Robert C. Woodward, Timothy G. St. Pierre, Judy S. Riffle, Richey M. Davis, 2014, Langmuir on p. 1580-1587
Robin T. Varghese, Yanping Liang, Ting Guan, Christopher T. Franck, Deborah F. Kelly, Zhi Sheng, 2016, Oncotarget on p. 20140-20151
Kevin J. Pridham, Lamvy Le, Sujuan Guo, Robin T. Varghese, Sarah Algino, Yanping Liang, Renee Fajardin, Cara M. Rodgers, Gary R. Simonds, Deborah F. Kelly, Zhi Sheng, 2018, Neuro-Oncology on p. 494-505
Real-Time Visualization of Nanoparticles Interacting with Glioblastoma Stem Cells
Elliot S. Pohlmann, Kaya Patel, Sujuan Guo, Madeline J. Dukes, Zhi Sheng, Deb Kelly, 2015, Nano Letters on p. 2329-2335
A. Cameron Varano, Amina Rahimi, Madeline J. Dukes, Steven Poelzing, Sarah M. McDonald, Deborah F. Kelly, 2015, Chemical Communications on p. 16176-16179
Pratik Kanabur, Sujuan Guo, Gary R. Simonds, Deborah F. Kelly, Robert G. Gourdie, Scott S. Verbridge, Zhi Sheng, 2016, Oncotarget on p. 86406-86419
Cynthia L. Browning, Qin Qin, Deborah F. Kelly, Rohit Prakash, Fabio Vanoli, Maria Jasin, John Pierce Wise, 2016, Toxicological Sciences on p. 70-78
Improved microchip design and application for in situ transmission electron microscopy of macromolecules
Madeline Dukes, Rebecca Thomas, John Damiano, Kate Klein, Sharavanan Balasubramaniam, Sanem Kayandan, Judy Riffle, Richey Davis, Sarah McDonald, Deborah F. Kelly, 2014, Microscopy and Microanalysis on p. 338-345
William J. Dearnaley, Beatrice Schleupner, A. Cameron Varano, Nick A. Alden, Floricel Gonzalez, Michael A. Casasanta, Birgit E. Scharf, Madeline J. Dukes, Deborah F. Kelly, 2019, Nano Letters on p. 6734-6741
View More