David Huff
Professor of Turfgrass Breeding and Genetics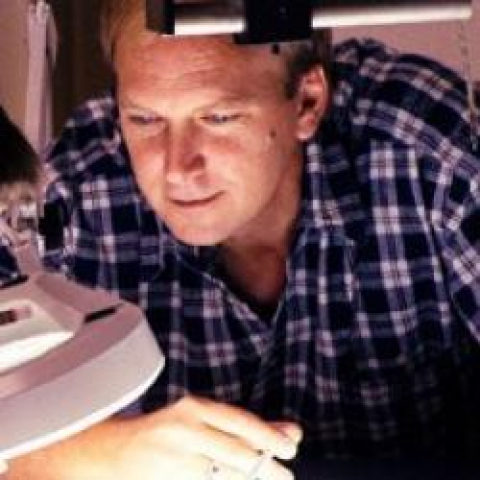 210 ASI
University Park, PA
Research Summary
Population genetics. Plant evolution and ecology. Crop improvement. Physiological tolerance to biotic and abiotic stress.
Huck Graduate Students
Huck Affiliations
Links
Publication Tags
Poa Annua
Infection
Poa
Poaceae
Fungi
Genome
Seed Yield
Epigenetics
Plasticity
Biomass
Pistil
Yield Components
Breeding
Bouteloua Dactyloides
Introns
Diploidy
Basidiomycota
Dna Methylation
Ovary
Seed Production
Research
Allocation
Disorders Of Sex Development
Species Identification
Rna
Most Recent Papers
Het ontwikkelen van straatgras cultivars voor putting greens: de research op Penn State University om het zeer gevarieerde straatgras te temmen
DR Huff, Greenkeeper: vakblad voor greenkeeping on p. 47–49
Global DNA methylation predicts epigenetic reprogramming and transgenerational plasticity in Poa annua L
Christopher W. Benson, Qing Mao, David R. Huff, 2020, Crop Science
Development of ent-kaurene oxidase-based conserved intron spanning primers for species identification in the genus poa (poaceae; bluegrass)
Jonathan M. LaMantia, Ambika Chandra, David R. Huff, 2018, Agronomy
Characterizing small RNA profiles in allotetraploid poa annua L. And its diploid parents
Qing Mao, David R. Huff, 2017, Crop Science on p. S-13-S-25
Draft Genome sequence of Salmacisia buchloëana (Basidiomycota), which induces hermaphroditism in dioecious buffalograss
David R. Huff, Tom Hsiang, Ambika Chandra, Yu Zhang, 2017, Microbiology Resource Announcements
Cool-season grasses
Stacy A. Bonos, David R. Huff, 2015, on p. 591-660
The evolutionary arms race between golf course superintendents and Poa annua.
David Huff, 2015,
Pistil smut infection increases ovary production, seed yield components, and pseudosexual reproductive allocation in buffalograss
Ambika Chandra, David R. Huff, 2014, Plants on p. 512-594
Cool-season grasses: Biology and breeding
Stacy Bonos, David Huff, 2013, Turfgrass: Biology, Use, and Management on p. 591–660
The evolutionary origin of Poa annua L
Qing Mao, David R. Huff, 2012, Crop Science on p. 1910-1922
View More
Most-Cited Papers
The evolutionary origin of Poa annua L
Qing Mao, David R. Huff, 2012, Crop Science on p. 1910-1922
Instability of the greens-type phenotype in poa annua L
Jonathan M. la Mantia, David R. Huff, 2011, Crop Science on p. 1784-1792
Genetic variability in populations of the southern chinch bug, blissus insularis, assessed using AFLP analysis
Ambika Chandra, James A. Reinert, Jonathan Lamantia, J. Blake Pond, David R. Huff, 2011, Journal of Insect Science
Root distribution and tiller densities of creeping bentgrass cultivars and greens-type annual bluegrass cultivars in a putting green
Eric M. Lyons, Peter Landschoot, David Robert Huff, 2011, Hortscience: A Publication of the American Society for Hortcultural Science on p. 1411-1417
Pistil smut infection increases ovary production, seed yield components, and pseudosexual reproductive allocation in buffalograss
Ambika Chandra, David R. Huff, 2014, Plants on p. 512-594
Draft Genome sequence of Salmacisia buchloëana (Basidiomycota), which induces hermaphroditism in dioecious buffalograss
David R. Huff, Tom Hsiang, Ambika Chandra, Yu Zhang, 2017, Microbiology Resource Announcements
Characterizing small RNA profiles in allotetraploid poa annua L. And its diploid parents
Qing Mao, David R. Huff, 2017, Crop Science on p. S-13-S-25
Global DNA methylation predicts epigenetic reprogramming and transgenerational plasticity in Poa annua L
Christopher W. Benson, Qing Mao, David R. Huff, 2020, Crop Science
Development of ent-kaurene oxidase-based conserved intron spanning primers for species identification in the genus poa (poaceae; bluegrass)
Jonathan M. LaMantia, Ambika Chandra, David R. Huff, 2018, Agronomy
Cool-season grasses: Biology and breeding
Stacy Bonos, David Huff, 2013, Turfgrass: Biology, Use, and Management on p. 591–660
View More