Cristina Rosa
Associate Professor of Plant Pathology & Environmental Microbiology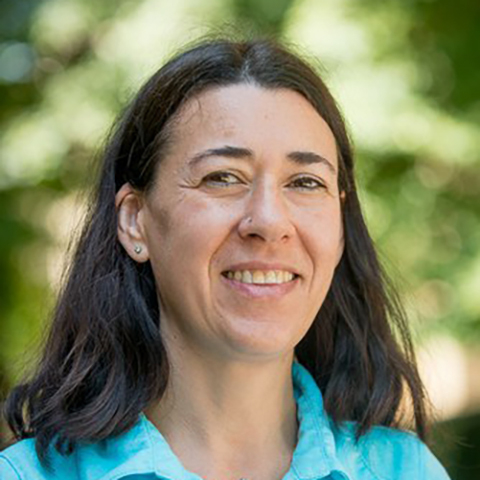 321 Buckhout Lab
University Park, PA
Research Summary
Plant Virology, interaction of plant viruses with their insects as vectors and with their plant hosts. Virus evolution, exploration of plant viromes, viral co-infections, effect of climate change on viral resistant breaking strains. Use of nanotechnologies for virus detection and virus disease management.
Huck Graduate Students
Huck Affiliations
Publication Tags
These publication tags are generated from the output of this researcher. Click any tag below to view other Huck researchers working on the same topic.
Bacteria
Digestive System
Insects
Microorganisms
Herbivory
Nitrogen
Larva
Genes
Insecta
Tomatoes
Herbivores
Thysanoptera
Cerambycidae
Thripidae
Neohydatothrips Variabilis
Lycopersicon Esculentum
Zea Mays
Insect Larvae
Diet
Larvae
Urea
Jasmonic Acid
Recycling
Helicoverpa Zea
Orthotospovirus
Most Recent Publications
A cyber-age approach to manage <i>Barley yellow dwarf virus</i> in winter wheat on a global scale
Joseph Walls III, Cristina Rosa,
Juan Francisco Iturralde Martinez, Cristina Rosa, 2023, Scientific Reports
Md Tariqul Islam, Madeline Sain, Colin Stark, Michael Fefer, Jun Liu, Todd Hoare, Wenzi Ckurshumova, Cristina Rosa, 2023, Photochemical and Photobiological Sciences on p. 2675-2686
Asifa Hameed, Cristina Rosa, Cheryle A. O'Donnell, Edwin G. Rajotte, 2023, Viruses
Photosensitizer to the Rescue: In Planta and Field Application of Photodynamic Inactivation Against Plant-Pathogenic Bacteria
Md Tariqul Islam, Kenneth Ng, Michael Fefer, Jun Liu, Wakar Uddin, Wenzi Ckurshumova, Cristina Rosa, 2023, Plant Disease on p. 870-878
Asifa Hameed, Jonah M. Ulmer, Istvan Miko, Cristina Rosa, Edwin G. Rajotte, 2022, Insects
Asifa Hameed, Cristina Rosa, Edwin G. Rajotte, 2022, Insects
Md Islam, Crosley Kudla-Williams, Suraj Kar, Jason Londo, Michela Centinari, Cristina Rosa, 2022, Frontiers in Insect Science
Mitzy F. Porras, Antonino Malacrinò, Chanratha An, Kim Hian Seng, Ong Socheath, George Norton, Sally Miller, Cristina Rosa, Edwin G. Rajotte, Megan E. O'Rourke, 2022, Plant Health Progress on p. 206-211
Phytobiome Metabarcoding: A Tool to Help Identify Prokaryotic and Eukaryotic Causal Agents of Undiagnosed Tree Diseases
Carrie J. Fearer, Antonino Malacrinò, Cristina Rosa, Pierluigi Bonello, 2022, on p. 347-366
View More
Most-Cited Papers
Seung Ho Chung, Cristina Rosa, Erin D. Scully, Michelle Peiffer, John F. Tooker, Kelli Hoover, Dawn S. Luthe, Gary W. Felton, 2013, Proceedings of the National Academy of Sciences of the United States of America on p. 15728-15733
RNA interference mechanisms and applications in plant pathology
Cristina Rosa, Yen Wen Kuo, Hada Wuriyanghan, Bryce W. Falk, 2018, Annual Review of Phytopathology on p. 581-610
Tritrophic Interactions: Microbe-Mediated Plant Effects on Insect Herbivores
Ikkei Shikano, Cristina Rosa, Ching Wen Tan, Gary W. Felton, 2017, Annual Review of Phytopathology on p. 313-331
View More