Barbara Jean Rolls
Professor and Helen A. Guthrie Chair of Nutritional Sciences; Professor of Biobehavioral Health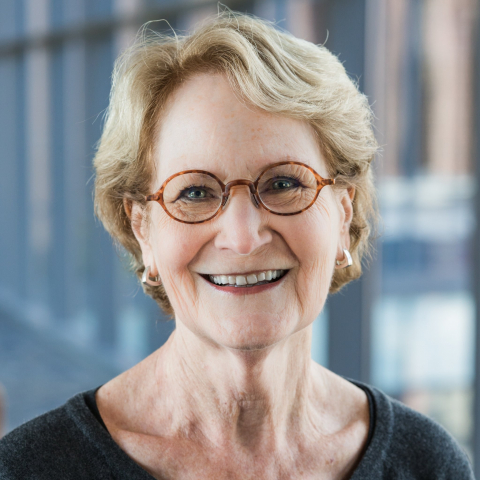 0226 Henderson Bldg
University Park, PA 16802
Links
Publication Tags
These publication tags are generated from the output of this researcher. Click any tag below to view other Huck researchers working on the same topic.
Food
Meals
Obesity
Weights And Measures
Child
Portion Size
Energy Intake
Weight Loss
Eating
Preschool Children
Vegetables
Eating Behavior
Research
Ice Cream
Fruit
Snacks
Cross Over Studies
Energy
Body Weight
Maintenance
Feeding Behavior
Diet
Satiation
Rating
Self Control
Most Recent Publications
Children with lower ratings of executive functions have a greater response to the portion size effect
Kathleen Loralee Keller, Alaina Pearce, Bari Fuchs, Kyle Hallisky, Barbara J. Rolls, Stephen Wilson, Charles Geier, Emma Jane Rose, 2023, Appetite
Food Properties and Individual Characteristics Influence Children's Intake Across Multiple Days of Weighed Assessments in Childcare Programs
Liane S. Roe, Kathleen L. Keller, Barbara J. Rolls, 2023, Journal of Nutrition on p. 1646-1655
The effects of snack foods of different energy density on self-served portions and consumption in preschool children.
Hanim Diktas, Liane Roe, K Keller, B Rolls, 2023, Appetite on p. 106527
Eating rate and bite size were related to food intake across meals varying in portion size: A randomized crossover trial in adults
P Cunningham, Liane S. Roe, Kathleen Loralee Keller, A Hendriks-Hartensveld, Barbara J. Rolls, 2023, Appetite
Faris Zuraikat, Jonathan Bauman, Marissa Setzenfand, David Arukwe, Barbara J. Rolls, Kathleen Loralee Keller, 2023, Obesity
Hanim Diktas, Kathleen Loralee Keller, Liane S. Roe, Barbara J. Rolls, 2022, Journal of Nutrition on p. 2287-2296
Anouk E.M. Hendriks-Hartensveld, Barbara J. Rolls, Paige M. Cunningham, Chantal Nederkoorn, Remco C. Havermans, 2022, Appetite
Construct validation of the Reasons Individuals Stop Eating Questionnaire (RISE-Q) and the development of the RISE-Q-15
Liam R. Chawner, Shihui Yu, Paige M. Cunningham, Barbara Rolls, Marion M. Hetherington, 2022, Appetite
Nicole Reigh, Barbara J. Rolls, Lori Anne Francis, Kristin A. Buss, John E. Hayes, Marion Hetherington, M Heatherington, Kameron Moding, Samantha Kling, Kathleen Keller, 2022, Frontiers in Nutrition
Anouk Hendriks-Hartensveld, Jennifer Brodock, John E. Hayes, Barbara J. Rolls, Kathleen Keller, Remco Havermans, 2022, Food Quality and Preference
View More
Most-Cited Papers
Paul S. MacLean, Rena R. Wing, Terry Davidson, Leonard Epstein, Bret Goodpaster, Kevin D. Hall, Barry E. Levin, Michael G. Perri, Barbara J. Rolls, Michael Rosenbaum, Alexander J. Rothman, Donna Ryan, 2015, Obesity on p. 7-15
Krista Casazza, Kevin R. Fontaine, Arne Astrup, Leann L. Birch, Andrew W. Brown, Michelle M. Bohan Brown, Nefertiti Durant, Gareth Dutton, E. Michael Foster, Steven B. Heymsfield, Kerry McIver, Tapan Mehta, Nir Menachemi, P. K. Newby, Russell Pate, Barbara J. Rolls, Bisakha Sen, Daniel L. Smith, Diana M. Thomas, David B. Allison, 2013, New England Journal of Medicine on p. 446-454
B. J. Rolls, 2014, International Journal of Obesity on p. S1-S8
Krista Casazza, Andrew Brown, Arne Astrup, Fredrik Bertz, Charles Baum, Michelle Bohan Brown, John Dawson, Nefertiti Durant, Gareth Dutton, David A. Fields, Kevin R. Fontaine, Steven Heymsfield, David Levitsky, Tapan Mehta, Nir Menachemi, P. K. Newby, Russell Pate, Hollie Raynor, Barbara J. Rolls, Bisakha Sen, Daniel L. Smith, Diana Thomas, Brian Wansink, David B. Allison, 2015, Critical Reviews in Food Science and Nutrition on p. 2014-2053
Alissa D. Smethers, Barbara J. Rolls, 2018, Medical Clinics of North America on p. 107-124
Liane S. Roe, Jennifer S. Meengs, Leann L. Birch, Barbara J. Rolls, 2013, American Journal of Clinical Nutrition on p. 693-699
B. J. Rolls, 2017, Nutrition Bulletin on p. 246-253
Jacqueline A. Vernarelli, Diane C. Mitchell, Barbara J. Rolls, Terryl J. Hartman, 2014, Zeitschrift fur Ernahrungswissenschaft on p. 59-65
Samantha M.R. Kling, Liane S. Roe, Kathleen L. Keller, Barbara J. Rolls, 2016, Physiology and Behavior on p. 18-26
Dietary energy density and obesity: how consumption patterns differ by body weight status
Jacqueline A. Vernarelli, Diane C. Mitchell, Barbara J. Rolls, Terryl J. Hartman, 2018, Zeitschrift fur Ernahrungswissenschaft on p. 351-361
View More