Margarita Lopez-Uribe
Associate Professor of Entomology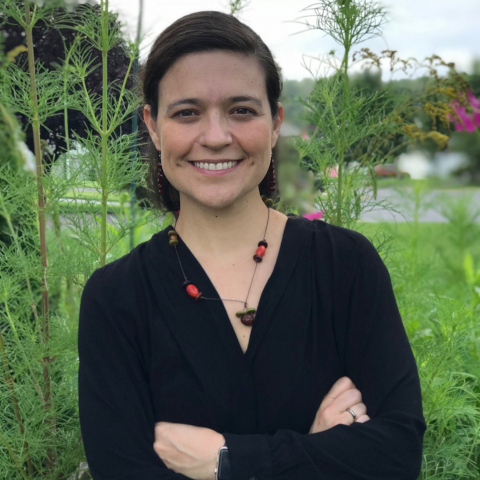 501 ASI
University Park, PA
She/Her
Research Summary
How environmental change and human management shape bee health and long-term persistence of their populations in agricultural areas.
Huck Graduate Students
Huck Affiliations
Links
Publication Tags
These publication tags are generated from the output of this researcher. Click any tag below to view other Huck researchers working on the same topic.
Bees
Bee
Hymenoptera
Phylogeny
Apoidea
Agriculture
Climate Change
Pollinating Insects
North America
Population
Monitoring
Cucurbita
Climate
History
Apidae
Phenotype
Domestication
Pollinator
Health
Pathogens
Color
Urbanization
Honey
Pollen
Crops
Most Recent Publications
Robyn M. Underwood, Brooke L. Lawrence, Nash E. Turley, Lizzette D. Cambron-Kopco, Parry M. Kietzman, Brenna E. Traver, Margarita M. López-Uribe, 2023, Scientific Reports
UCE phylogenomics, biogeography, and classification of long-horned bees (Hymenoptera: Apidae: Eucerini), with insights on using specimens with extremely degraded DNA
Felipe V. Freitas, Michael G. Branstetter, Vinícius H. Franceschini-Santos, Achik Dorchin, Karen W. Wright, Margarita M. López-Uribe, Terry Griswold, Fernando A. Silveira, Eduardo A.B. Almeida, 2023, Insect Systematics and Diversity
H. Siviter, A. Fisher, B. Baer, M. J.F. Brown, I. F. Camargo, J. Cole, Y. Le Conte, B. Dorin, J. D. Evans, W. Farina, J. Fine, L. R. Fischer, M. P.D. Garratt, T. C. Giannini, T. Giray, H. Li-Byarlay, M. M. López-Uribe, J. C. Nieh, K. Przybyla, N. E. Raine, A. M. Ray, G. Singh, M. Spivak, K. Traynor, K. M. Kapheim, J. F. Harrison, 2023, Insectes Sociaux on p. 281-282
Nathaniel S. Pope, Avehi Singh, Anna K. Childers, Karen M. Kapheim, Jay D. Evans, Margarita M. López-Uribe, 2023, Proceedings of the National Academy of Sciences of the United States of America
Grace M. Gutierrez, Kathryn A. Lecroy, T'ai H. Roulston, David J. Biddinger, Margarita M. López-Uribe, 2023, Environmental Entomology on p. 149-156
Phylogenomics reveals within species diversification but incongruence with color phenotypes in widespread orchid bees (Hymenoptera: Apidae: Euglossini)
Stephania Sandoval-Arango, Michael G. Branstetter, Carolina F. Cardoso, Margarita M. López-Uribe, 2023, Insect Systematics and Diversity
H. Siviter, A. Fisher, B. Baer, M. J.F. Brown, I. F. Camargo, J. Cole, Y. Le Conte, B. Dorin, J. D. Evans, W. Farina, J. Fine, L. R. Fischer, M. P.D. Garratt, T. C. Giannini, T. Giray, H. Li-Byarlay, M. M. López-Uribe, J. C. Nieh, K. Przybyla, N. E. Raine, A. M. Ray, G. Singh, M. Spivak, K. Traynor, K. M. Kapheim, J. F. Harrison, 2023, Insectes Sociaux on p. 5-16
Heather Hines, Shelby Kilpatrick, Istvan Miko, Daniel Snellings, M Lopez-Uribe, Margarita M. López-Uribe, Li Tian, 2022, PeerJ on p. e14555
Laura J. Jones, Avehi Singh, Rudolf J. Schilder, Margarita M. López-Uribe, 2022, Journal of Invertebrate Pathology
Nash E. Turley, David J. Biddinger, Neelendra K. Joshi, Margarita M. López-Uribe, 2022, Ecology and Evolution
View More
Most-Cited Papers
April L. Hamblin, Elsa Youngsteadt, Margarita M. López-Uribe, Steven D. Frank, 2017, Biology Letters on p. 20170125
S. F. Ryan, N. L. Adamson, A. Aktipis, L. K. Andersen, R. Austin, L. Barnes, M. R. Beasley, K. D. Bedell, S. Briggs, B. Chapman, C. B. Cooper, J. O. Corn, N. G. Creamer, J. A. Delborne, P. Domenico, E. Driscoll, J. Goodwin, A. Hjarding, J. M. Hulbert, S. Isard, M. G. Just, K. Kar Gupta, M. M. López-Uribe, J. O'Sullivan, E. A. Landis, A. A. Madden, E. A. McKenney, L. M. Nichols, B. J. Reading, S. Russell, N. Sengupta, L. R. Shapiro, L. K. Shell, J. K. Sheard, D. D. Shoemaker, D. M. Sorger, C. Starling, S. Thakur, R. R. Vatsavai, M. Weinstein, P. Winfrey, R. R. Dunn, 2018, Proceedings of the Royal Society B: Biological Sciences
Margarita M. López-Uribe, James H. Cane, Robert L. Minckley, Bryan N. Danforth, 2016, Proceedings of the Royal Society B: Biological Sciences on p. 20160443
View More