Margarita Lopez-Uribe
Associate Professor of Entomology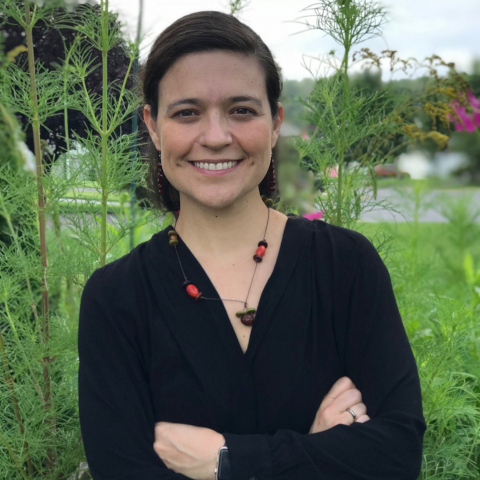 501 ASI
University Park, PA
She/Her
Research Summary
How environmental change and human management shape bee health and long-term persistence of their populations in agricultural areas.
Huck Graduate Students
Huck Affiliations
Links
Publication Tags
These publication tags are generated from the output of this researcher. Click any tag below to view other Huck researchers working on the same topic.
Bees
Climate Change
Apoidea
Phylogeny
Bee
Agriculture
Climate
Pollinating Insects
Population
Biodiversity
Domestication
Cucurbita
Insects
Urbanization
Honey Bees
Crops
Pathogens
Feral
Monitoring
Biogeography
Food
Parasites
Hymenoptera
Squashes
North America
Most Recent Publications
Laura J. Jones, Avehi Singh, Rudolf J. Schilder, Margarita M. López-Uribe, 2022, Journal of Invertebrate Pathology
Nash E. Turley, David J. Biddinger, Neelendra K. Joshi, Margarita M. López-Uribe, 2022, Ecology and Evolution
Pollination of blueberry crops in Pennsylvania
Margarita López-Uribe, K Demchak, S Fleischer, S Bird, I Petitta, N Turley, 2022, Penn State Extension
Crop Pollination by Bees, Volume 1: Evolution, Ecology, Conservation, and Management
Margarita López-Uribe, 2022, American Entomologist on p. 61-62
Pumpkins and Squash: What are their pollination needs?
Margarita López-Uribe, 2022, Penn State Extension
Where do bee pollinators go during the winter?
Margarita López-Uribe, 2022, Penn State Extension
Combined effects of oxalic acid sublimation and brood breaks on Varroa mite (Varroa destructor) and deformed wing virus levels in newly established honey bee (Apis mellifera) colonies
Kathleen C. Evans, Robyn M. Underwood, Margarita M. López-Uribe, 2022, Journal of Apicultural Research on p. 197-205
Creating a Virtual International Research Experience
Margarita Lopez-Uribe, Margarita M. López-Uribe, Julio V. Urbina, Alfonso Mejia, Alfonso I. Mejía, Luis O. Duque, D Riaño, Diego Riaño-Jimenez, Diego Riaño-Jiménez, Jose Ricardo Cure, Victor Ramos, Carlos Martel, Jose Fuentes, Victor H. González, 2022, American Entomologist on p. 24-27
Jeffrey A. Harvey, Kévin Tougeron, Rieta Gols, Robin Heinen, Mariana Abarca, Paul K. Abram, Yves Basset, Matty Berg, Carol Boggs, Jacques Brodeur, Pedro Cardoso, Jetske G. de Boer, Geert R. De Snoo, Charl Deacon, Jane E. Dell, Nicolas Desneux, Michael E. Dillon, Grant A. Duffy, Lee A. Dyer, Jacintha Ellers, Anahí Espíndola, James Fordyce, Matthew L. Forister, Caroline Fukushima, Matthew J.G. Gage, Carlos García-Robledo, Claire Gely, Mauro Gobbi, Caspar Hallmann, Thierry Hance, John Harte, Axel Hochkirch, Christian Hof, Ary A. Hoffmann, Joel G. Kingsolver, Greg P.A. Lamarre, William F. Laurance, Blas Lavandero, Simon R. Leather, Philipp Lehmann, Cécile Le Lann, Margarita M. López-Uribe, Chun Sen Ma, Gang Ma, Joffrey Moiroux, Lucie Monticelli, Chris Nice, Paul J. Ode, Sylvain Pincebourde, William J. Ripple, Melissah Rowe, Michael J. Samways, Arnaud Sentis, Alisha A. Shah, Nigel Stork, John S. Terblanche, Madhav P. Thakur, Matthew Brian Thomas, Jason M. Tylianakis, Joan Van Baaren, Martijn Van de Pol, Wim H. Van der Putten, Hans Van Dyck, Wilco C.E.P. Verberk, David L. Wagner, Wolfgang W. Weisser, William C. Wetzel, H. Arthur Woods, Kris A.G. Wyckhuys, Steven L. Chown, 2022, Ecological Monographs
High parasite prevalence in the squash bees Eucera (Peponapis) pruinosa from the northeastern United States
L Jones, A Singh, R Schilder, Margarita López-Uribe, 2022, Journal of Invertebrate Pathology on p. 107848
View More
Most-Cited Papers
April L. Hamblin, Elsa Youngsteadt, Margarita M. López-Uribe, Steven D. Frank, 2017, Biology Letters on p. 20170125
S. F. Ryan, N. L. Adamson, A. Aktipis, L. K. Andersen, R. Austin, L. Barnes, M. R. Beasley, K. D. Bedell, S. Briggs, B. Chapman, C. B. Cooper, J. O. Corn, N. G. Creamer, J. A. Delborne, P. Domenico, E. Driscoll, J. Goodwin, A. Hjarding, J. M. Hulbert, S. Isard, M. G. Just, K. Kar Gupta, M. M. López-Uribe, J. O'Sullivan, E. A. Landis, A. A. Madden, E. A. McKenney, L. M. Nichols, B. J. Reading, S. Russell, N. Sengupta, L. R. Shapiro, L. K. Shell, J. K. Sheard, D. D. Shoemaker, D. M. Sorger, C. Starling, S. Thakur, R. R. Vatsavai, M. Weinstein, P. Winfrey, R. R. Dunn, 2018, Proceedings of the Royal Society B: Biological Sciences
Climate, physiological tolerance and sex-biased dispersal shape genetic structure of Neotropical orchid bees
Margarita M. López-Uribe, Kelly R. Zamudio, Carolina F. Cardoso, Bryan N. Danforth, 2014, Molecular Ecology on p. 1874-1890
Margarita M. López-Uribe, James H. Cane, Robert L. Minckley, Bryan N. Danforth, 2016, Proceedings of the Royal Society B: Biological Sciences on p. 20160443
Elsa Youngsteadt, R. Holden Appler, Margarita M. López-Uribe, David R. Tarpy, Steven D. Frank, 2015, PLoS One
Margarita M. López-Uribe, Stephen J. Morreale, Christine K. Santiago, Bryan N. Danforth, 2015, PLoS One
Margarita M. Lopez-Uribe, Vincent A. Ricigliano, Michael Simone-Finstrom, 2020, Annual Review of Animal Biosciences on p. 269-294
Phylogeny, new generic-level classification, and historical biogeography of the Eucera complex (Hymenoptera: Apidae)
A. Dorchin, M. M. López-Uribe, C. J. Praz, T. Griswold, B. N. Danforth, 2018, Molecular Phylogenetics and Evolution on p. 81-92
Margarita M. López-Uribe, Warren B. Sconiers, Steven D. Frank, Robert R. Dunn, David R. Tarpy, 2016, Biology Letters on p. 20150984
Robyn M. Underwood, Brenna E. Traver, Margarita M. López-Uribe, 2019, Insects
View More