Guilherme Becker
Associate Professor of Biology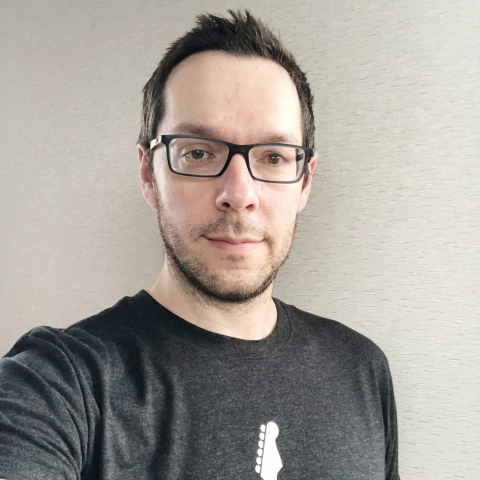 606 Mueller Lab
University Park, PA
He/Him
Research Summary
Host-microbial interactions, landscape genetics and the ecology of global change stressors. Building models and conducting field and laboratory experiments to understand the biotic and abiotic mechanisms driving wildlife disease dynamics in both tropical and temperate systems.
Huck Graduate Students
Huck Affiliations
Links
Publication Tags
These publication tags are generated from the output of this researcher. Click any tag below to view other Huck researchers working on the same topic.
Amphibians
Amphibian
Brazil
Chytridiomycota
Batrachochytrium Dendrobatidis
Virulence
Immune System
Microbiota
Fungi
Pathogen
Skin
Climate
Infection
Infections
Extinction
Microbiome
Habitats
Ecosystem
Pathogens
Forests
Phenotype
Land Cover
Skin (Animal)
Environmental Factors
Population
Most Recent Publications
Anthropogenic habitat modification linked to deformities in Cururu Toads from Fernando de Noronha
R. Reboucas, C. Guilherme Becker, J. Bacon, L. Toledo, Salamandra: German Journal of Herpetology
Haddadus binotatus (leaf litter frog)
R. Martins, I. Scheeffer, C. Guilherme Becker, HERPETOLOGICAL REVIEW
Selection of an anti-pathogen skin microbiome following prophylaxis treatment in an amphibian model system
Samantha A. Siomko, Sasha E. Greenspan, K. M. Barnett, Wesley J. Neely, Stanislava Chtarbanova, Douglas C. Woodhams, Taegan A. McMahon, C. Guilherme Becker, 2023, Philosophical Transactions of the Royal Society B: Biological Sciences
Coby A. McDonald, C. Guilherme Becker, Carolina Lambertini, L. Felipe Toledo, Célio F.B. Haddad, Kelly R. Zamudio, 2023, Molecular Ecology on p. 2252-2270
Effects of environmental factors on the ecology and survival of a widespread, endemic Cerrado frog
Bruno F. Fiorillo, Gabriel Paganini Faggioni, Felipe Osmari Cerezer, C. Guilherme Becker, Juan C. Díaz-Ricaurte, Marcio Martins, 2023, Biotropica on p. 551-562
Habitat split as a driver of disease in amphibians
C. Guilherme Becker, Sasha E. Greenspan, Renato A. Martins, Mariana L. Lyra, Paula Prist, Jean Paul Metzger, Vinicius São Pedro, Célio F.B. Haddad, Emily H. Le Sage, Douglas C. Woodhams, Anna E. Savage, 2023, Biological Reviews
A retrospective overview of amphibian declines in Brazil's Atlantic Forest
Luís Felipe Toledo, Sergio Potsch de Carvalho-e-Silva, Ana Maria Paulino Telles de Carvalho-e-Silva, João Luiz Gasparini, Délio Baêta, Raoni Rebouças, Célio F.B. Haddad, C. Guilherme Becker, Tamilie Carvalho, 2023, Biological Conservation
Stephen F. Harding, C. Guilherme Becker, Jessica R. Yates, Paul Crump, Michael R.J. Forstner, Stephen J. Mullin, David Rodriguez, 2022, Scientific Reports
Sasha E. Greenspan, Pedro Peloso, Jesualdo A. Fuentes-González, Molly Bletz, Mariana L. Lyra, Ibere F. Machado, Renato A. Martins, Daniel Medina, Diego Moura-Campos, Wesley J. Neely, Jackson Preuss, Marcelo J. Sturaro, Renata I. Vaz, Carlos A. Navas, Luís Felipe Toledo, Alexandro M. Tozetti, Miguel Vences, Douglas C. Woodhams, Célio F.B. Haddad, Jason Pienaar, C. Guilherme Becker, 2022, Animal Microbiome
Renato A. Martins, Sasha E. Greenspan, Daniel Medina, Shannon Buttimer, Vanessa M. Marshall, Wesley J. Neely, Samantha Siomko, Mariana L. Lyra, Célio F.B. Haddad, Vinícius São-Pedro, C. Guilherme Becker, 2022, Animal Microbiome
View More
Most-Cited Papers
Long-term endemism of two highly divergent lineages of the amphibian-killing fungus in the Atlantic Forest of Brazil
D. Rodriguez, C. G. Becker, N. C. Pupin, C. F.B. Haddad, K. R. Zamudio, 2014, Molecular Ecology on p. 774-787
Tamilie Carvalho, C. Guilherme Becker, Luís Felipe Toledo, 2017, Proceedings of the Royal Society B: Biological Sciences
Jordan G. Kueneman, Molly C. Bletz, Valerie J. McKenzie, C. Guilherme Becker, Maxwell B. Joseph, Juan G. Abarca, Holly Archer, Ana Lisette Arellano, Arnaud Bataille, Matthew Becker, Lisa K. Belden, Angelica Crottini, Robert Geffers, Célio F.B. Haddad, Reid N. Harris, Whitney M. Holden, Myra Hughey, Michael Jarek, Patrick J. Kearns, Jacob L. Kerby, Jos Kielgast, Atsushi Kurabayashi, Ana V. Longo, Andrew Loudon, Daniel Medina, José J. Nuñez, R. G.Bina Perl, Adrián Pinto-Tomás, Falitiana C.E. Rabemananjara, Eria A. Rebollar, Ariel Rodríguez, Louise Rollins-Smith, Robert Stevenson, Christoph C. Tebbe, Gabriel Vargas Asensio, Bruce Waldman, Jenifer B. Walke, Steven M. Whitfield, Kelly R. Zamudio, Ibrahim Zúñiga Chaves, Douglas C. Woodhams, Miguel Vences, 2019, Nature Ecology and Evolution on p. 381-389
C. Guilherme Becker, David Rodriguez, L. Felipe Toledo, Ana V. Longo, Carolina Lambertini, Décio T. Corrêa, Domingos S. Leite, Célio F.B. Haddad, Kelly R. Zamudio, 2014, Proceedings of the Royal Society B: Biological Sciences
S. E. Greenspan, C. Lambertini, T. Carvalho, T. Y. James, L. F. Toledo, C. F.B. Haddad, C. G. Becker, 2018, Scientific Reports
Anna E. Savage, Carlos G. Becker, Kelly R. Zamudio, 2015, Evolutionary Applications on p. 560-572
C. G. Becker, A. V. Longo, C. F.B. Haddad, K. R. Zamudio, 2017, Proceedings of the Royal Society B: Biological Sciences
Douglas C. Woodhams, Molly C. Bletz, C. Guilherme Becker, Hayden A. Bender, Daniel Buitrago-Rosas, Hannah Diebboll, Roger Huynh, Patrick J. Kearns, Jordan Kueneman, Emmi Kurosawa, Brandon C. Labumbard, Casandra Lyons, Kerry McNally, Klaus Schliep, Nachiket Shankar, Amanda G. Tokash-Peters, Miguel Vences, Ross Whetstone, 2020, Genome Biology
Rarity as an indicator of endangerment in neotropical frogs
Luís Felipe Toledo, C. Guilherme Becker, Célio F.B. Haddad, Kelly R. Zamudio, 2014, Biological Conservation on p. 54-62
C. G. Becker, S. E. Greenspan, K. E. Tracy, J. A. Dash, C. Lambertini, T. S. Jenkinson, D. S. Leite, L. F. Toledo, J. E. Longcore, T. Y. James, K. R. Zamudio, 2017, Fungal Ecology on p. 45-50
View More