Mar 04, 2021
Undergraduate Research Award Funds Pollinator Photo Project
Darya Alvarez completed a photography project funded by an Apes Valentes Undergraduate Research Award. Her goal is to help viewers gain a greater appreciation of the critical role that bees play in the survival of terrestrial ecosystems.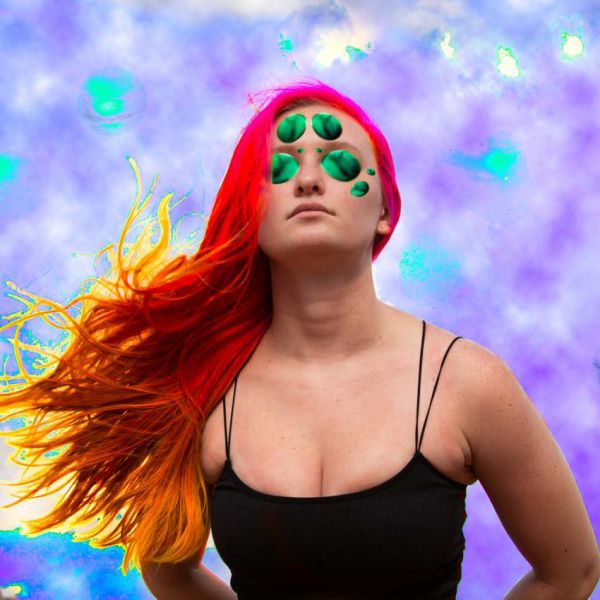 Penn State undergraduate Darya Alvarez recently completed a photography project aimed at helping viewers gain a greater appreciation of the critical role that pollinators play in the survival of terrestrial ecosystems. Ms. Alvarez, a junior majoring in Advertising with a minor in Photography, funded her project "To Carry the World" with a grant from the 2020 Apes Valentes Undergraduate Research Award.
Alvarez was one of six undergraduate award recipients in 2020. She received the award after submitting a proposal to research pollinators and share what she learned with others visually through experimental fashion photography. Bees became the main focus of her project.
Fittingly, Apes Valentes means "healthy bee" in Latin.
"I wanted the people looking at these photographs to get a sense of attitude, power, community, and play inspired by my research of pollinators," Alvarez explained.
Alvarez conducted interviews with beekeepers local to her community in New Jersey as well as Dr. Harland Patch, Assistant Research Professor of Entomology, and Dr. Christina Grozinger, Publius Vergilius Maro Professor of Entomology and director of Penn State's Center for Pollinator Research. Based on the information gleaned from these interviews, Alvarez and her project assistant, Ian Cunningham, posed human models to mimic bee behaviors in indoor and outdoor sets designed to represent the bees' habitats.
"I love to push the envelope, to create original work with intriguing ideas behind it and capture the emotions of myself and my model," Alvarez said.
Her project timeline, originally expected to run three months, was disrupted but not defeated by the pandemic. After four months of research and two months of production, Alvarez and her team created photographs to illustrate seven concepts:
The Hive – a multiple exposure made from images shot outside in a field to illustrate the various jobs of all the bees in a hive
5-Dimensional ­– so named because bees have 5 eyes, a composite created with Photoshop that shows a model with a bee's eyes
Loss – a look at the beauty of the environment that humans stand to lose by endangering bees, as more than 80 percent of Earth's flowering plants require a pollinator to reproduce
Obsession – a series of images meant to highlight the importance of honey to both bees and human beings
Matriarch – one model regally dressed to portray a queen bee is shown flanked by several models who represent the worker bees
Hazed – a psychedelic image of a beekeeper meant to depict the calming effect of the smoke used on honeybees while their honey is being harvested
Bold and Yellow – a series of photos of a female model in a yellow power suit meant to invoke the matriarchal structure within a bee colony
For Alvarez, the project allowed her to transform scientific realities into aesthetic experiences to be shared with others. "I love helping the viewer find beauty in whatever I'm showing them," she said.
View the full gallery of her photography project on the Insect Biodiversity Center's new Art & Imagery page.
The Apes Valentes Research Award program was established in 2015 and is supported by a generous $600,000 endowment from a private donor. Each year, the program provides awards of up to $5,000 each to selected students. Eligibility alternates between undergraduate and graduate students annually. The funds are to be used to complete research, extension, art, education and/or outreach projects related to all aspects of pollinator biology and health.
The 2021 Apes Valentes Research Award is open to graduate students. Applications should be submitted to Kasey Packer (kjp5188@psu.edu) by April 1, 2021. Visit https://ento.psu.edu/news/2020-apes-valentes-undergraduate-research-award for more detailed information on how to apply.