Sep 22, 2020
Two Powerful Groups Engage for Student Growth
The Society of Industrial Biotechnology continues adapting to its current climate, virtually networking with professionals and Penn State alumni from Bristol Myers Squibb, one of the world's leaders in innovative medicine.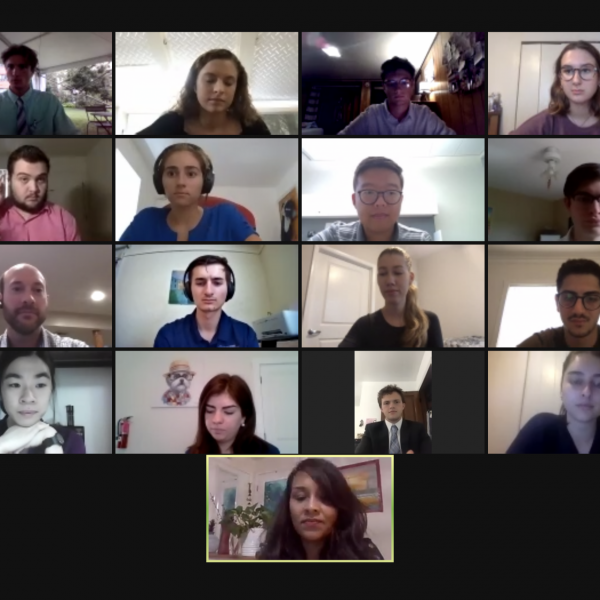 STATE COLLEGE, Pa. – Despite it being the first crisp Friday afternoon of the fall semester in Happy Valley on Sept. 18, The Society of Industrial Biotechnology (SIB), a diverse group of undergraduate students who are interested in biotechnology, were hard at work, networking with professionals from Bristol Myers Squibb (BMS), one of the world's leaders in innovative medicine.
23 undergraduate students, led by Elijah Yudt, SIB President and a junior at Penn State's University Park campus, virtually met with three of the schools' alumni who are now BMS professionals over a Zoom meeting.
BMS is a global biopharmaceutical company headquartered in New York City, dedicated to discovering, developing and delivering innovative medicines to patients with serious diseases. It began in 1989 when Bristol-Myers and Squibb, two companies who both had over a century worth of experience in the industry, merged.
Today it continues to research and manufacture prescription pharmaceuticals in multiple areas including, Cancer, HIV/AIDS, Rheumatoid Arthritis, Diabetes and psychiatric disorders while employing over 30,000 people globally.
Hasin Feroz, a 2017 Penn State Ph.D. graduate and scientist at BMS, Nate Kopp, a 2008 Penn State chemical engineering graduate and a senior research investigator and Tingwei Ren, a 2018 Penn State Ph.D. graduate and scientist, were the presenters for the afternoon.
The trio discussed key company concepts and focuses while also reflecting on the diverse and welcoming culture they have found while working for BMS. They also covered where students might fit into BMS upon graduation, in addition to information about their renowned graduate rotational programs that directly recruit high performing college seniors on track to graduate with a B.S. in engineering or life sciences disciplines.
After further discussing the general fermentation processes at BMS, very similar to those done within the CSL Behring Fermentation Facility in collaboration with The Center of Excellence in Industrial Biotechnology at Penn State, the event was opened up to questions and discussion.
And the SIB members did not use this as a wasted opportunity, as they asked numerous questions, including, what makes a résumé and cover letter stand out, and from a company's perspective, how valuable are undergraduate research experiences?
"You will probably work on something that affects someone that you're close with," Kopp said when asked what he enjoys most about working at BMS.
Realizing that they are studying in one of the most unprecedented times in history, the students furthered the discussion by asking how these industry professionals are personally coping with the challenges of COVID-19 and how it's affected their work.
Overall, this event was another example of how SIB is continuing to move the needle forward as a student organization at Penn State while adapting and overcoming hurdles presented by their current climate.
---
For information about BMS, see their website. And for more information about SIB and The Center of Excellence in Industrial Biotechnology, visit our website and follow us on LinkedIn and Twitter.