We Are... the Microbiome Center is a feature series that celebrates the people of the Center and the collaborative spirit we bring to "making life better" at the Center each day.
Select a name below to read more.
Jenn Harris
Doctoral Student, Ecology
January 17, 2023
By Nichole Ginnan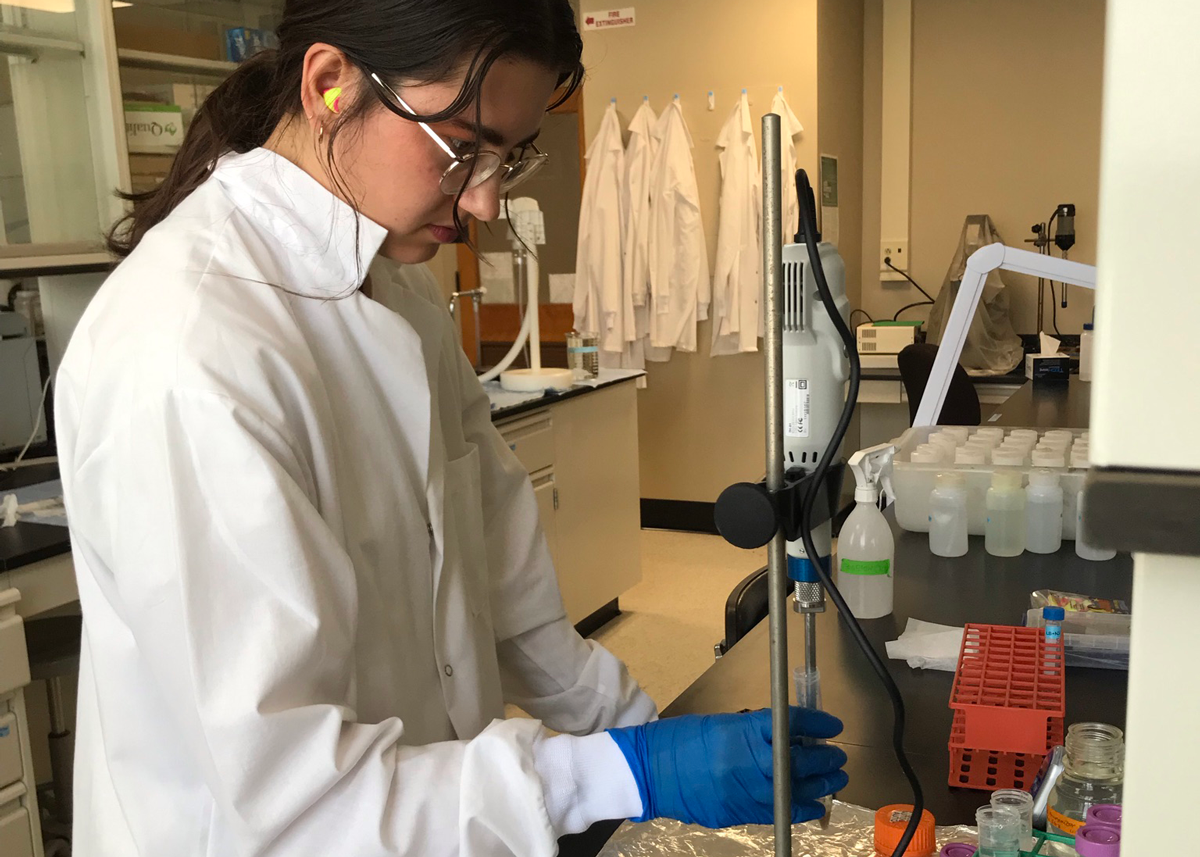 Jenn is exploring bacterial evolution in the field
Jenn Harris, an Ecology Ph.D. student, has always had an interest in how environmental factors influence larger ecosystem processes. As an undergraduate, she investigated the effects of climate change on forest insect ecology and decomposition. Appreciating the broader issues, Jenn was inspired to aid in developing sustainable solutions for managing the consequences of rapid global change. This led her to a position at Indigo, an agricultural biotech company, where she contributed to the research and development of microbial-focused crop applications.
Now as a member of Drs. Liana Burghardt's and Estelle Couradeau's Labs, she is continuing to explore how plant-associated microbes interact with different crops. Specifically, Jenn is investigating how Rhizobia, a plant bacterial symbiont, evolve with various cover crops (e.g., clover and alfalfa). Rhizobia are nitrogen-fixing bacteria that can significantly improve soil fertility and plant growth. Understanding rhizobial trait selection in association with different cover crops could help farmers optimize crop/soil management strategies and increase cash crop yields.
Outside of research, Jenn has participated on the Penn State cross-country team and has a growing interest in science-focused community outreach. Jenn notes the importance of finding good mentors and feels fortunate to have a supportive network within and outside of academia.
Terry Torres-Cruz
Doctoral Candidate, Plant Pathology, Biogeochemistry
December 13, 2022
By Nichole Ginnan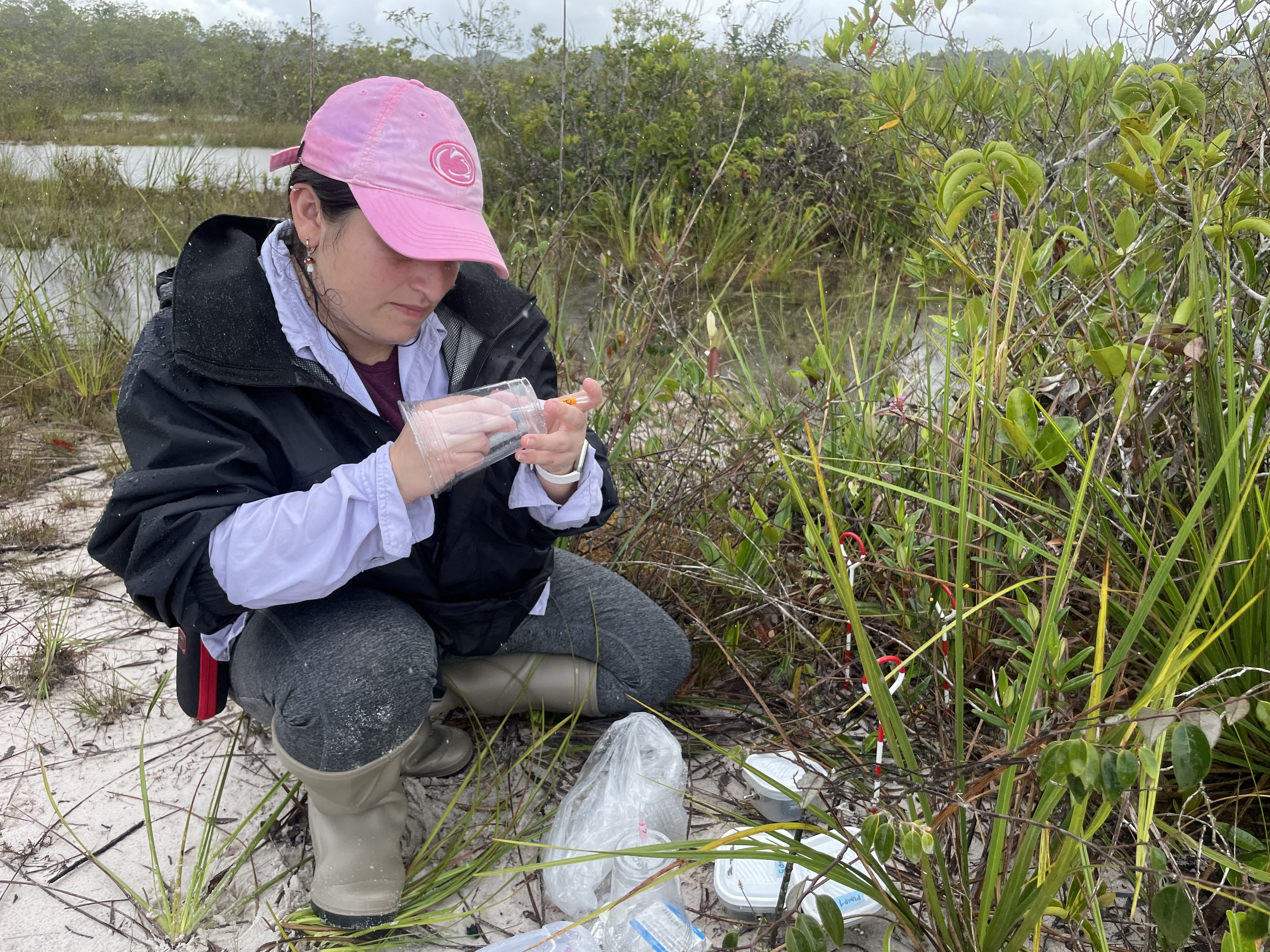 Terry is characterizing rare fungal pseudoflowers
Terry Torres-Cruz, a dual title Plant Pathology and Biogeochemistry PhD candidate, grew up in Costa Rica and received a B.S. from the prestigious Biotechnology Engineering program at Instituto Tecnológico de Costa Rica. Her undergraduate research focused on heavy metal resistance in soil fungi, and this sparked a longstanding interest in mycology. Later, she worked for the US Geological Survey as a field technician, which involved extensive field work.
Now as a member of Dr. David Geiser's Lab, Terry uses her mycological and field skills to study a unique phenomenon called pseudoflowers–fungal structures disguised as plant floral tissues. Specifically, she focuses on the rare instance of a fungal Fusarium sp producing pseudoflowers that are entirely made of fungal tissue. These unique pseudoflowers have only been seen on yellow-eyed grasses in Guyana and are potentially a floral mimicry system. Terry's research has involved coordinating field teams of forest rangers and undergraduates. These studies confirmed that pollinators and other insects interact with these flower imposters. This suggests the fungi may be dispersed via an insect-mediated mechanism. In 2021, Terry received the "Give a DAWG a Bone" award to sequence the other fungi and bacteria associated with these structures, which potentially aid in attracting insect vectors.
Additionally, Terry has held numerous leadership roles in internal/external organizations, including the PSU Graduate and Professional Student Association, the Penn State SACNAS Chapter, the Mycological Society of America (MSA), and more. Remarkably, through her advocacy work and diverse undergraduate mentor roles, Terry is actively improving equity in higher education and STEM.
Sterling Wright
Doctoral Student, Anthropology
December 6, 2022
By Nichole Ginnan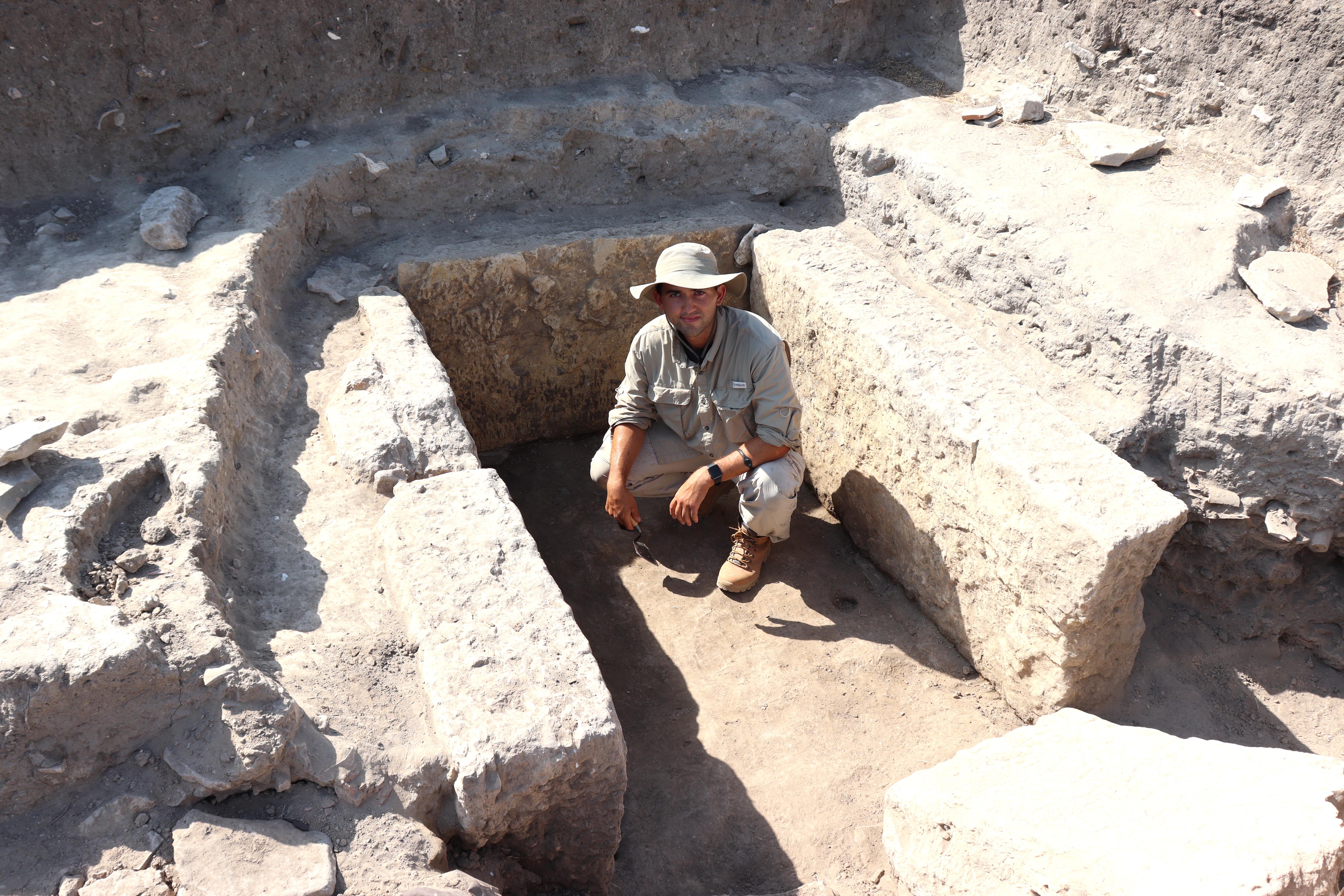 Sterling is reconstructing the past using ancient oral microbial DNA
Sterling Wright was first introduced to anthropology while taking an undergraduate course about ancient Greece. Now, as an Anthropology PhD student and a member of Dr. Laura Weyrich's lab, he is leading research on humans from hundreds to thousands of years ago. Specifically, he is using ancient DNA from up to 4,000-year-old calcified human teeth to understand the impacts of urbanization on oral microbiomes and human health. Sterling is particularly focused on changes in periodontal disease (infection of the gums) frequency and how the oral microbiome has changed over time. These projects target ancient and modern Romanian populations, in addition to ancient Georgian populations.
Supported by several prestigious research travel awards, including the National Geographic Early Career Grant, Sterling has traveled to a number of archaeological sites. He also collaborates with museum curators and other academics to obtain his research samples. Furthermore, Sterling recently received the internal "Give a DAWG a Bone" award from the Data Analysis Working Group, which will support a microbiome sequencing project. With a collaborative spirit, he appreciates the simple acts of discovering and exchanging knowledge about the past. Outside of work, Sterling can be found on the tennis court.
Colin Howe
Doctoral Student, Biology
November 29, 2022
By Nichole Ginnan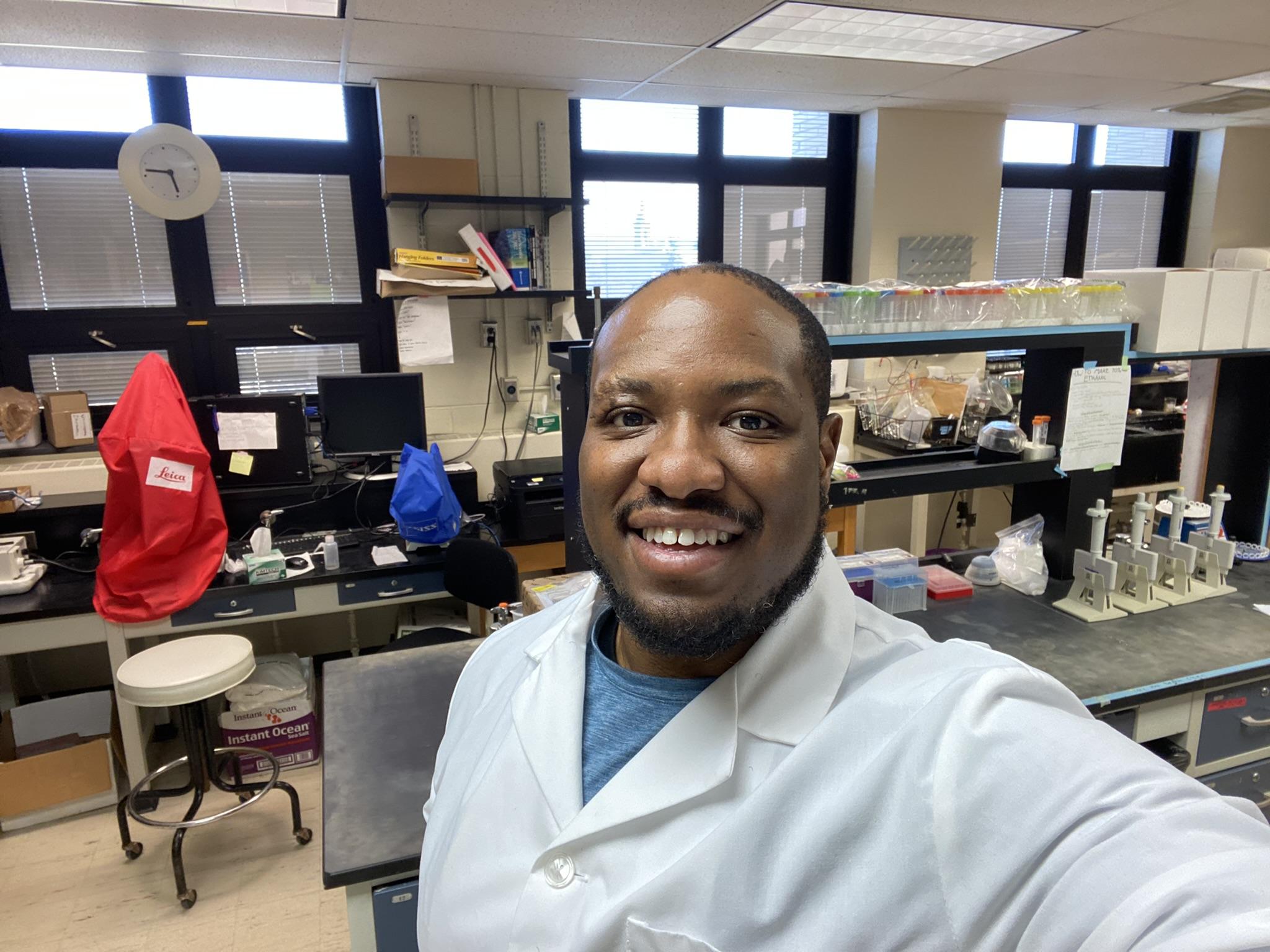 Colin is exploring dynamic coral microbiomes
Colin Howe, a PhD student in Biology and a member of Dr. Monica Media's lab, spent part of his childhood in Japan and frequently visited the Carribean Islands where his parents grew up. These experiences laid the foundation for his interest in marine biology, but also his understanding of how marine systems impact the local culture, and vice versa. Colin completed his master's at the University of the Virgin Islands. His participation in the NSF INCLUDES: Supporting Emerging Aquatic Scientists (SEAS) Island Alliance first brought him to PSU. Inspired by the Medina lab's integration of tropical marine ecology and microbiology, he joined the biology program as a PhD student. Colin aims to unravel coral-microbe relationships beyond the well-studied dinoflagellate symbionts. Coral-associated microbiomes could be the key to preserving reef health under the pressures of climate change. Colin is keen to tease apart these microbial communities to identify which microbes are active core members of the microbiome and which are simply passive transients. Characterizing the coral microbiome will support innovative research towards disentangling the complex, yet intricate relations that exist between coral host and their microbes. Colin's studies will include environmentally collected and lab-cultivated specimens, as well as utilize ancient DNA approaches to define microbial communities of skeletonized coral fossils.
Throughout his time in marine sciences, Colin observed that researcher demographics do not reflect the populations that are most impacted by the failure and success of these environments (e.g., coral reefs). As such, Colin is an avid advocate for increasing social and ethnic diversity in this field. As an effective science communicator, Colin creates informational videos and has spoken on podcasts and panels about his experiences and science identity. Outside of research and SciCom activities, Colin enjoys various water activities, including scuba diving, kayaking, and swimming.
Taejung Chung
Doctoral Candidate, Food Science
November 22, 2022
By Nichole Ginnan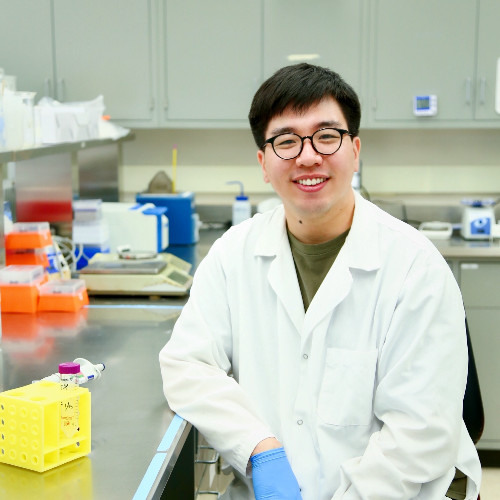 Taejung is enhancing food-borne pathogen surveillance
Taejung Chung is a doctoral candidate in the Department of Food Science and the current director of DAWG (Data Analysis Working Group). As a member of the Kovac lab, Chung employs high-throughput sequencing of microbial marker genes and metagenomes to study how food-borne pathogens, such as Salmonella, impact surface water (e.g., streams) microbial ecology.
The use of contaminated water in fresh produce production introduces considerable risk and could cause food-borne disease outbreaks. Intriguingly, he is advancing food-borne pathogen surveillance using machine learning classifiers to identify biomarkers of contaminated water and reduce human health risk. Read more about this exciting research in his recent pre-print (DOI: 2022.07.11.499664).
Additionally, Chung is utilizing the skills he developed in the lab to boost data analysis training through his position in DAWG. He is motivated to help others take their data from the sequencer to publishing. Noting that he greatly enjoys participating in this supportive community.
Outside of work Taejung likes to watch sports, including basketball, soccer, and football.